The Albert J. Ellis Airport
The road ahead
Business View Magazine interviews Chris White, Director of the Albert J. Ellis Airport, as part of our series on American regional airports.
The Albert J. Ellis Airport (OAJ), named for a distinguished North Carolina legislator, is a county-owned, public-use, commercial service airport located in the Town of Richlands in Onslow County, 10 nautical miles northwest of the central business district of Jacksonville and Marine Corps Base Camp Lejeune. "The Airport has its roots back in the 1950s, when a group of local, concerned citizens, business owners, and government officials decided it would be in the community's best interest to build a commercial airport, and began lobbying the Civil Aeronautics Board, the precursor to the FAA, as well as Piedmont Airlines, to establish an airport here," recounts Chris White, AAE Airport Director at OAJ for the past ten years.
"Over a period of about 15 years, they got the necessary approvals and a commitment from Piedmont Airlines to initiate airline service," White continues. "Finally, in 1968, they started construction. They opened the Airport on Valentine's Day in 1971, and we've had air service, continuously, since that day. Piedmont Airlines was then bought by US Air, so that's changed over the years. American Airlines has been operating here continuously, and Delta Airlines joined the lineup in 2007, offering multiple, daily, non-stop service to Atlanta, while American offers service to Charlotte."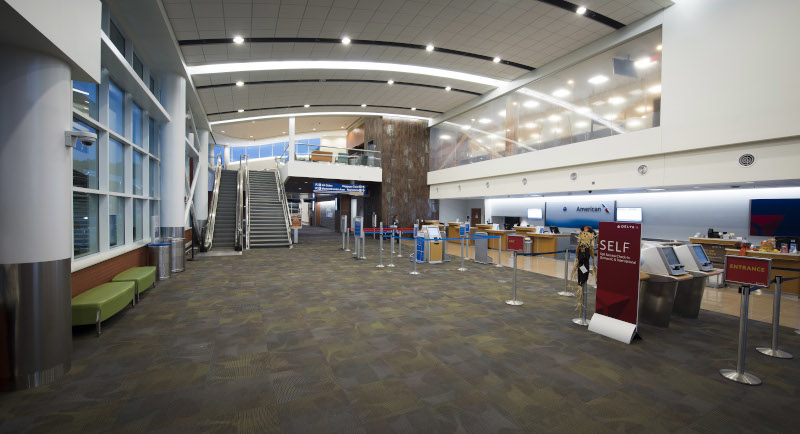 In addition to the two commercial airlines that offer about ten daily departures, OAJ also has a thriving general aviation and corporate operation, with between 25-40 home-based aircraft at any one time. "We also serve as a training base for the military," White adds. "At New River Air Station, they have many squadrons, including the MV-22 Osprey. It's a vertical takeoff hybrid airplane/helicopter. Their pilots come over here and train on a daily basis and keep our airfield occupied. We also have two air medical operations on the field, as well as aerial firefighting and agricultural aircraft that utilize the field on a regular basis."
OAJ is 100 percent self-sufficient and does not receive any funds from local tax revenues for its operations or maintenance. On the contrary, White says that the Airport contributes "quite a bit back to the local economy in the form of both taxes and jobs.  The state just came out with a new economic impact study," he adds. "In that, it found that Albert Ellis Airport had an economic output of $474.2 million a year, supports 2,785 jobs, and generates over $15.3 million a year in state and local taxes."
As one of the top state funders for aviation in the nation, North Carolina returns some of that money right back to its airports. "The state has invested over $115 million in the ten commercial service airports in the last two years, and we're the beneficiary of some of that," White notes. "And the state also invests approximately $40 million a year into its general aviation system." Thus, over the past ten years, OAJ has experienced several major infrastructure projects and upgrades.
"In 2009, the Airport initiated a redevelopment program that included virtually every facility, with the exception of the fire station and electrical vault," White reports. The major piece of that redevelopment program was a new, two-story, 67,000-sq.-ft., passenger terminal building that opened in August, 2015, featuring four gates, three passenger loading bridges, a full-service fixed-base operator, new concessions, updated security checkpoints, expanded passenger areas, dressing rooms for service personnel to change into military uniforms, seating with digital recharging stations, and space for additional airlines.  At the same time, the Airport built a new, 10,000-sq.-ft., state-of-the-art, general aviation facility, while also replacing a number of its hangars (some of which were designed by Erect-A-Tube, a manufacturer of aircraft hangars and door systems).
"In addition, we have replaced most of the utility infrastructure," White continues. "We built a six-mile- long sanitary sewer force main and also increased the capacity on the water side. Communications and electrical infrastructure have been significantly upgraded, and we're in the process of completing a conversion of the airfield lighting to LED. We have constructed a number of aircraft parking aprons; we now have a large area for charter aircraft – the Marine Corps is a big user of charter aircraft. Plus, new portions of roadways and taxiways have been added, as well. We are working toward expansion of the aircraft parking aprons and hangar sites, and also working toward an extension of the runway. The runway is 7,100 feet long and the planned extension will take it to 8,000 feet."
Another significant addition to OAJ is its new, $6 million, six-story, control tower, which opened last November – the 256th tower operating under the U.S. Contract Tower Program, meaning that the air traffic controllers work for a private firm under contract to the FAA to provide air traffic services. "There are over 19,000 airports in the United States; 5,000 of them are publicly-owned," White explains. "There are only a little over 600 airports with air traffic control towers, and there are approximately 440 commercial service airports, but approximately half of the commercial service airports out there do not have air traffic services – only the busiest airports have them. And there are a number of general aviation airports that have control towers, but don't have commercial service."
Up until the new tower opened, pilots at OAJ – as they did and still do at all other airports without towers – communicated on what is known as a common traffic advisory frequency (CTAF). "They announce their intentions and everyone who operates in the airspace communicates on the frequency, so they know to watch out for each other and they can operate without the intervention of air traffic control," White observes. "It's a perfectly safe system. Our Airport operated for 48 years and has not had any kind of accidents, so it's a safe environment for pilots and passengers to operate in. What air traffic does is improve safety and efficiency. As the airspace gets a little more crowded, the air traffic controllers are able to manage the air traffic, better."
While White believes that all the airports in North Carolina generally support one another, he admits that there does exist a friendly competition among nearby facilities. "For success, airports require other airports for arrival and departure destinations," he avers. "If you have a good, diverse group of airports that people want to travel to and from, that's a necessary element in a healthy system. So, we kind of depend on the other airports, as well, for our success. That being said, we do compete in both the general aviation realm, as well as the commercial realm. If you look at nearby airports, from a commercial perspective, we compete with New Bern and Wilmington, as well as Raleigh. We believe we have an advantage because we have new facilities; we emphasize customer service; and it's an easy in and out. A long line for us is about ten minutes, whereas a long line at Miami or Orlando might be hours. So, it's efficiency for the passengers to be able to come and go; they spend less time in the Airport than they would in some larger facilities. So from an airline perspective, that's one thing, we think, that gives us a distinct advantage.
"In the general aviation realm, we compete with several other airports in the region. But also being a commercial airport, we're able to offer more extensive services to our general aviation and corporate users. You go to Duplin County, which is one of the nearest, publicly-owned, general aviation airports – they have a shorter runway; they don't have air traffic service; they don't have fire or police protection; they don't necessarily have all the instrument approaches you might find at an airport like ours. When you have a general aviation airport, you often don't have the same support companies, but when you have a commercial airport, like ours, now the general and corporate aviation population has access to six rental car companies and a full-service restaurant, as well as the law enforcement that's required on the commercial side. So, the general and corporate aviation is a beneficiary of those additional services."
White says that the road ahead for OAJ includes encouraging more aviation-related businesses to locate their operations there, and it is preparing sites that he feels would "be attractive to those types of operators – manufacturers, MROs, things like that," he states. "We have ample space to continue to grow; opportunities for development; and a very willing, educated, and aviation-focused workforce. That's one good thing about being in a military town – you have a constant flow of trained personnel coming out of the air station. We can support the aviation-focused industry here; we have wide open spaces and no encroachment, which makes it easy to develop. The Airport has got top-notch facilities, state-of-the-art, modern facilities, and welcoming and pleasing personnel. And we're an important link for both residents and visitors. As they say, 'one mile of road takes you one mile; one mile of runway takes you anywhere in the world.'"
AT A GLANCE
WHO: The Albert J. Ellis Airport
WHAT: A county-owned, public-use airport
WHERE: In the Town of Richlands in Onslow County, North Carolina
WEBSITE: www.flyoaj.com
[penci_related_posts dis_pview="no" dis_pdate="no" title="Latest" background="" border="" thumbright="no" number="4″ style="list" align="none" withids="" displayby="recent_posts" orderby="rand"]