Brainerd Lakes Regional Airport
Destined for growth
Business View Magazine interviews Steven Wright, Airport Director at Brainerd Lakes Regional Airport, for our focus on General Aviation in the U.S.
Locals call Brainerd, Minnesota, God's Country… and for good reason. The charming town is one of the main attractions in the state, boasting 450 lakes and lake destination tourist attractions. Thousands of tourists visit the area to fish, hunt, golf, bike, race, or engage in dozens of other activities.
"Most people coming to fish Minnesota's lakes don't realize that some of the fish in our remote lakes start as flying fish," quips Steven Wright, Airport Director at Brainerd Lakes Regional Airport. "Lakes lacking public access are stocked using aircraft out of our airport through the Minnesota DNR Fish and Wildlife office and the fish are added to the various lakes to repopulate them and provide the excellent fishing experience our visitors have come to love."
Besides flying in fish, the Brainerd Lakes Regional Airport is a crucial transportation hub for the economy of Brainerd and the surrounding area. Providing connections to both nationwide and international destinations through Delta Airlines, operated by SkyWest Airlines, the airport is poised to cater to the flight needs of a rapidly transforming Brainerd Lakes Region.
"We\'re coming into a unique time in Brainerd and Crow Wing County's, Minnesota\'s, and our nation\'s history as a result of the pandemic," says Wright. "Many people are moving to the Brainerd Lakes region and turning it into their home. What used to be a quaint little tourist town where people would come on the weekends to enjoy America\'s favorite summertime destination is turning into a year-round place to call home."
These changes are increasing the relevance and usefulness of the Brainerd Lakes Regional Airport, which serves the Lakes region and offers various services for business and leisure travelers. Along with flights by Delta Airlines, the airport also supports helicopter services through Brainerd Helicopter and direct flights to Laughlin, Nevada, with stays at the Don Laughlin's Riverside Resort Hotel & Casino. "People are moving here, and jobs are growing," says Wright. "Brainerd's growth is increasing the demand for passenger air services and general aviation use at the airport. We are seeing quite a number of fractional or chartered business aircraft and corporate jets flying in and out of the Brainerd Airport, more so during the pandemic."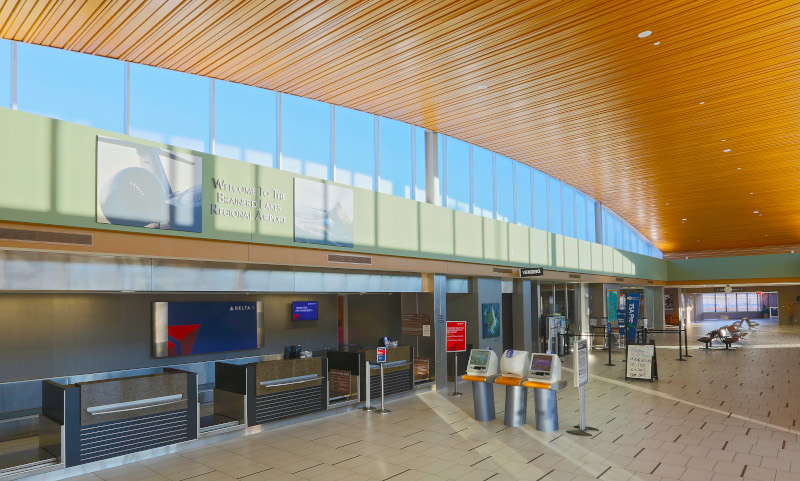 As demand grows, the airport continues to cater to a higher number of travelers and more diverse needs of customers. They are also preparing the facility for the next 50 years of operation. "BRD has been able to maximize federal funding resources offered to airports across the nation in response to the global pandemic," explains Wright. "Using the funds, we streamlined some critical projects we needed to implement, like adding an Airport Rescue and Firefighting (ARFF) station. The construction of runway 16-34 under the previous Airport Master Plan presented the need to place ARFF services at the intersection of the two commercial service runways. Our current ARFF station is now at the end of the furthest runway on the airfield, so the response distance is quite lengthy. The new Airport Master Plan placed the ARFF as one of the primary items needed to support the ever-increasing size of passenger jets."
Current facility upgrades are significant because airports like BRD tend to have exceptionally long upgrade cycles. For example, Wright says that it took almost 30 years to construct the second runway 16/34, which allowed large aircraft, like the Boeing 737, to use the airport. In addition to the ARFF station, Brainerd Lakes Regional Airport has also been able to invest in a co-located snow removal equipment (SRE) with the ARFF station, as part the current Airport Master Plan of consolidating its facilities and functions. "All our operational staff members are cross-trained capable to perform ARFF, Airport Operations and Airport maintenance duties," says Wright, "We plan to consolidate all the equipment (ARFF and SRE) under one roof in the new facility to streamline our operations and maximize staff efficiency."
The combined ARFF/SRE facility is under construction by Hy-Tec Construction, a local company that Wright says is undertaking the project like building owners, owing to the shared interests with the airport. He notes, "They have a personal stake in the airport because they are also users. The subcontractors also include many local resources, so we are excited to see local investment into the craftsmanship of these buildings."
Future development will fill in approximately 20 acres between the current terminal area and the new ARFF/SRE facility since the current terminal area is nearing completion. "Over the next 20 years, our focus is on the airport\'s economic development," shares Wright. "As the Brainerd Lakes Region grows, we want the airport to grow as well due to an increased need of aeronautical facilities, hangars, and businesses."
Brainerd Lakes Regional Airport has deep ties to the community, one of which is through its direct involvement in promoting aviation careers. NorthPoint Aviation (NorthPoint) runs several programs with Brainerd High School to expose students to the various jobs and careers at the airport. "NorthPoint's flight instructors teach a ground school course for high school students yearly," says Wright. "Through the course, high schoolers go through ground school and can integrate their coursework into actual flight instruction at NorthPoint."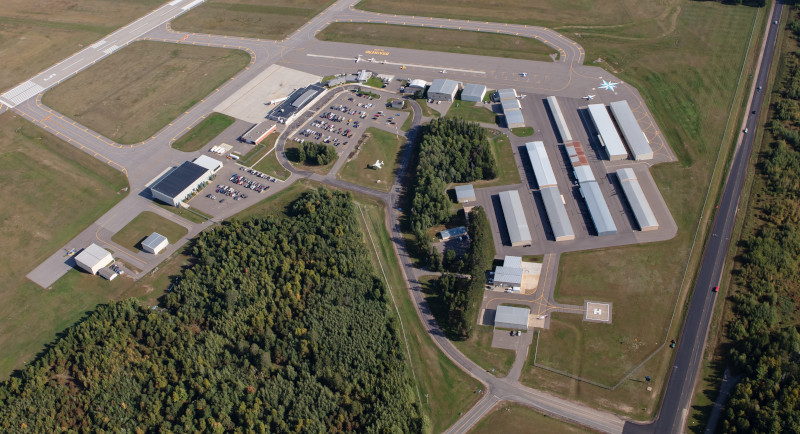 NorthPoint is also willing to expose high school kids to mechanics and avionics, offering an apprenticeship-type program where they learn alongside certified mechanics at the NorthPoint Aviation Facility. "We have many civic-minded aeronautical businesses here that engage with the community," adds Wright. "Schools will call us for tours, and we can accommodate kindergarten to high school visitors. It is great to get the wheels turning in those young minds and impress them early. Some of our tour activities available include helping the young students preflight an airplane, learning the different aspects of flight and how airplanes work. We also showcase heavy equipment operations and ARFF services through our ARFF and SRE equipment."
BRD also hosts several based aeronautical businesses and civic services at the airfield, hiring approximately 90 employees. Included in the base businesses are Brainerd Helicopter, which supports aerial forest fire watch, medical helicopters with flight paramedics, and forest fire fighting, and other law enforcement agencies.
Another business tenant at the airport is A.W. Research Labs, an independent, certified water testing laboratory. While most companies in the airport are aeronautical, A.W. Research Labs is not, although it did start as an aeronautical company. As Wright explains, "A.W. Research had remote sensing technologies built into an aircraft to survey wetlands and lakes in Minnesota. Their aircraft would fly over the lakes and wetlands, capture water quality data, and analyze their data at the laboratory right next to their hangar. Today, the lab now uses an aircraft on a subcontract basis, but they remain our tenants because they understand that this airport is still a great place to do business."
Other non-aeronautical tenants at the airport include the Wings Airport Café and an upcoming solar installation being built in partnership with Brainerd Public Utilities. "Brainerd Public Utilities is installing a solar array to generate power on a thirty-year power agreement," says Wright. "We\'re renting an unused portion of the airfield out to them and will receive non-aeronautical revenue, a major milestone in our quest to promote non-aeronautical developments within the airport."
For the next three to five years, the airport is focusing on its current developments, including the ARFF/SRE Facility station and laying the groundwork for aeronautical development towards runway 16/34, while exploring more ways of economically developing any idle land within the airport for non-aeronautical opportunities. "One of the pressing matters we'll need to address in the coming years is the challenge of hangars," says Wright. "We have multiple aircraft on our hangar waiting list, so we need to determine the plan of constructing hangars. However, with inflation and other factors, construction cost is a fundamental problem for private investors seeking to construct anything in the airport. Another challenge is that we have private assets stored on public land, which raises the question of who should invest in these hangars for short and long-term benefit."
For now, the airport awaits monies coming through a bipartisan infrastructure law that will see major airports like Brainerd Lakes Regional receive funds for infrastructure investment including hangars. "We plan to use the money to ensure our airfields are immaculate and have safe and strong runways," says Wright. "We will also focus on ensuring that airport safety facilities are complete, and any runway and safety issues are resolved. Once we complete those, we will then be able to use remaining funds to construct much needed aircraft hangars."
Robust infrastructure and more hangars all points to positive growth and a high-flying future ahead at Brainerd Lakes Regional Airport!
AT A GLANCE
Brainerd Lakes Regional Airport
What: A progressive general aviation and commercial airport
Where: Brainerd, Minnesota in Crow Wing County
Website: www.brainerdairport.com
[penci_container_inner container_layout="12_12″][penci_column_inner width="1/2″ order="1″]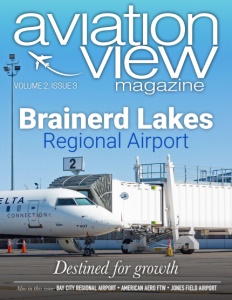 [/penci_column_inner][/penci_container_inner]