Mammoth Yosemite Airport
Ramping up the experience
Business View Magazine interviews Sierra Shultz, Deputy Airport Manager at Mammoth Yosemite Airport, for our focus on General Aviation in the U.S.
Mammoth Yosemite Airport (MMH) is located a short 10 minutes' drive – six miles – from the charming Town of Mammoth Lakes, California on US HWY 395. Not surprisingly, given the gorgeous scenery and exceptional opportunities for outdoor enthusiasts, tourism is the biggest economic driver for the region. The tiny Town of Mammoth Lakes has a population of around 8,000 but receives approx. 2.6 million visitors every year – with about 1.4 million in the winter alone. Of course, having Mammoth Yosemite Airport so close at hand is a huge asset to bring in all those tourists.
The core management team at MMH is comprised of a passionate, hard-working trio –  Sierra Shultz is Deputy Airport Manager, Rob Patterson is Admin Services Finance Director for the Town of Mammoth Lakes, and Vince Maniaci is Airport Operations & Management Manager. Together they champion the airport and the community at large.
Shultz grew up in the local area and shares, "It is definitely a special place. We have so many outdoor recreation activities such as fishing, biking, off-roading, golfing, kayaking, rock climbing, and we also have one of the country's finest ski resorts – Mammoth Mountain Ski Area. So a lot of skiing and snowboarding here, as well. I would say that quick access to outdoor recreation is probably what leads our strongest visitation numbers, along with just general sightseeing. There are amazing views no matter which direction you turn."
Operations-wise, MMH has a scheduled charter service with Advanced Airlines. While the airport doesn't currently have commercial service, it does maintain its part 139 certification and has the capabilities to receive commercial if the need arises in the future. Shultz explains, "Our Advanced Air charters are generally servicing the southern California market, with flights to Burbank, Hawthorne, and Carlsbad airports. A lot of our visitors are from the SoCal area, so we're really hitting on that market."
When COVID-19 arrived on the scene, airports everywhere were impacted and MMH was no exception. Patterson reports, "From a financial perspective, we budget conservatively because about 75 percent of our general fund budget is derived strictly from tourism occupancy tax. We're very conservative in that number so we can control our operating expenses. Frankly, we were able to just turn off visitation in March 2020 for COVID, and still meet our budget numbers for the year and survive financially."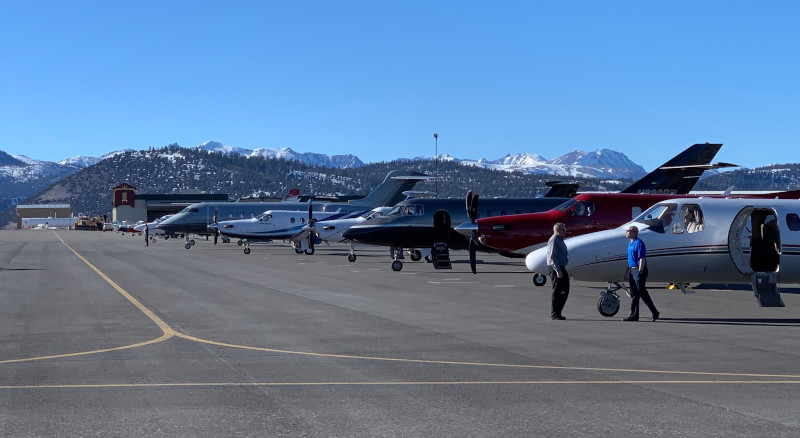 He adds, "What we did as a community was really try to block people out because there were so many people who still wanted to travel here to enjoy the outdoors. We have seen a tremendous resurgence during the latter stages of the pandemic, as people couldn't wait to get away from being at home to visit probably the most beautiful place they know. Our tourism and visitation numbers have gone off the charts in the last few months and we've also seen a boost in people moving to the area to work remotely. So that's been an interesting 'benefit' for us."
General aviation services are provided by the airport team and the FBO, Hot Creek Aviation. These amenities include de-icing services, tie-down areas, fueling, as well as pilot lounges, a café, and some seasonal catering.
MMH has one runway that is 7,000' x 100'. According to Shultz, "At this time, the runway doesn't need any upgrades, but we did have some recent capital projects on the go. We replaced our east general aviation ramp in 2021 with 211,000 sq. ft of new ramp. In 2020, we replaced some sections of our taxilane in front of hangars, as well as slurry-sealed our entire taxiway. So, the majority of our asphalt surfaces are taken care of at this point, with just some minor areas that we hope to take care of next year."
Hangar space is always in demand. That being said, all of MMH's hangars are currently filled and the FBO helps maintain a waiting list of people wanting to lease hangars. The airport terminal building has been in existence for a number of years and plans are now in progress for some minor remodelling efforts. EV charging stations are also under consideration. For ground transportation, the airport has Enterprise rental cars onsite, as well as multiple taxi companies that are based in town but provide regular service to MMH. Hot Creek Aviation also provides a shuttle to bring people up the hill, if flights are diverted down to Bishop Airport because of inclement weather.
Mammoth Yosemite Airport doesn't have an actual flight school on the premises, however, since it has an elevation of 7,135 ft, a lot of high-elevation training does occur at the airfield from both federal and state agencies, including the military. Shultz notes, "We also have space on the ground for simulations and tactical training that groups come out here to do."
Maniaci elaborates, "With the military, we've had everything from light planes up to a C-17 come in and do touch-and-go activities and other land operations that they integrate at the airport as a base, and then work here locally and deploy from this point. We also work closely with our State SAR (Search & Rescue) groups, and CHP (California Highway Patrol) dealing with a lot of backcountry rescues. We also invite all of our local community holders such as Fire, and Search & Rescue, for our annual training here. A few years back, we held a large tri-annual exercise, where we had members of the Secret Service and Dept. of Homeland Security, folks came from emergency services in San Francisco… it was a fantastic training event. We try to bump up our training and captivate all those players who really want to play."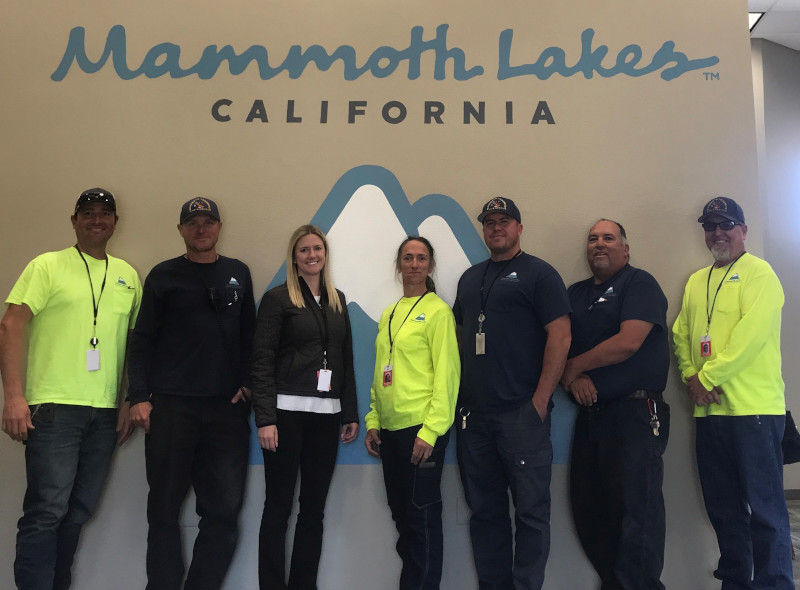 Surrounded by gorgeous natural beauty, the Town of Mammoth Lakes has garnered a lot of interest from the film industry, with people flying into Mammoth Yosemite Airport to shoot films, and commercials, and do photography. "We do hope to grow that sector and keep people coming to use our airport for those reasons," Shultz says. "We have a great relationship with Mammoth Lakes Tourism, when it comes to promotion. They work well with Advanced Airlines and other regional airlines, providing subsidies, and they are an NGO that's part of the Town of Mammoth Lakes, so we work closely with them on a regular basis."
As for new capital projects, Mammoth Yosemite is hoping to construct an ARFF and Snow Removal Equipment building next year. Shultz notes, "As we're designing that, we are looking at environmental sustainability options to incorporate. I've asked the architect to give a quote for a benefit cost analysis to do solar for the building and possibly to support other infrastructure, eventually. We'd rather it be on our buildings than on the ground, due to our snow accumulation, which is about 70 inches a year, on average." Speaking to her wish list, Shultz adds, "I would like to see a helicopter parking apron project, including some buildings and hangars. We receive a decent amount of helicopter operations such as life flights, search & rescue, and supporting our local hospitals. We want to keep growing our airport and our resources to support our community's growth and needs."
Not only is MMH close to the Town of Mammoth Lakes, it is also just 32 miles from the east access to  Yosemite National Park, and about 100 miles from the valley floor. Additionally, about 18 miles from the airport is Devils Postpile National Monument – an unusual rock formation of columnar basalt that is perfectly knit together like a massive mosaic. Looking to the future, Shultz envisions the airport becoming a tourism hub for people to get to the Mammoth Lakes region and all it has to offer. She would like MMH to grow their charter services, with more flights to additional locations, as well as more passengers on the flights.
Patterson has his own ideas, sharing, "To me, it would be the expansion of the helicopter apron and potential addition of firefighting capabilities. Here in the eastern Sierras, we are vulnerable to fire seasons and there are no forward firefighting bases in the area for air support – which is critical for us. So we'd like to see that expand. On another note, we have a lot of high-end jets and high-end clientele that fly in, so we want to ramp up our image and keep pushing on that charter service to make it a 'special deal' with an immersion of local Mammoth Lakes products on the plane to enhance the experience. Being so remote, the airport needs to support the community as much as it does need to bring in tourism. So that's the direction I'd like us to go."
Mammoth Lakes Tourism – www.visitmammoth.com
Surrounded by 2.2 million acres of national forest, Mammoth Lakes is California\'s premier, four-season alpine destination. Plan your visit to Mammoth Lakes at www.visitmammoth.com where you'll find information about flying to the area, as well as the best sights to see, places to eat and things to do once you arrive.
[penci_container_inner container_layout="12_12″][penci_column_inner width="1/2″ order="1″]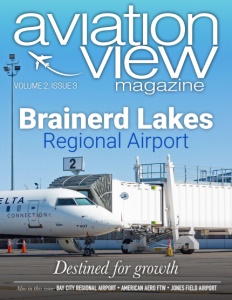 [/penci_column_inner][/penci_container_inner]