Barber Field Airport, La Ronge
The aviation hub of northern Saskatchewan
Business View Magazine interviews Jim Burr, Airport Manager at Barber Field Airport, La Ronge, as part of our series on Canadian regional airports.
The Barber Field Airport is located two miles northeast of La Ronge situated on the Canadian Shield of north-central Saskatchewan, Canada, and on the southwestern shore of Lac la Ronge. "I think, sometimes, because we're in northern Saskatchewan people fail to realize the significance of our Airport," says Airport Manager, Jim Burr. "But the Airport has had a long and very significant part in the development of aviation in the Canadian north, and particularly northern Saskatchewan. Before there was a road here, people were accessing this community by airplanes or river systems."
The first La Ronge airstrip was built by Canada's Department of Natural Resources in 1947 and used for mail freight and forest fire patrol. It was located just south of the Montreal River bridge, in what is now known as the Northern Village of Air Ronge. "That first airport grew to have scheduled and charter flights. It was also used as a base in the development of smoke jumpers," says Burr. Canada's first smoke jumping base was founded in La Ronge in 1949. Parachuters were trained to jump from aircraft for initial attack on the front lines of active fires.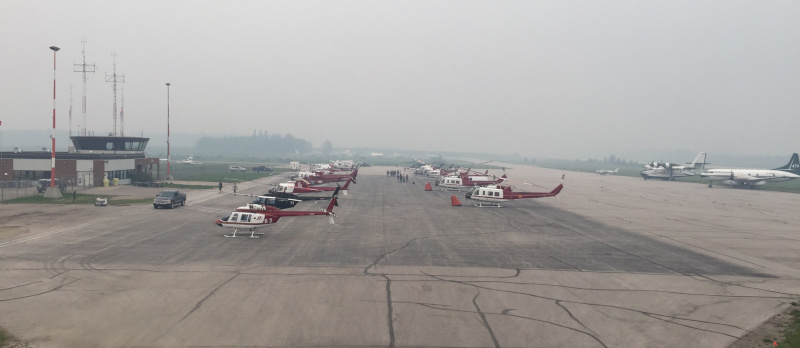 The economic growth and development of the '70s in northern Saskatchewan demanded the construction of a new airport that could support the growing aviation industry. In 1976, the current Airport was constructed by Transport Canada and the Province of Saskatchewan just north of La Ronge. With a 5,000-ft. paved runway with instrument approach, and a 2,400-ft crosswind runway with non-instrument approach, the Airport is equipped with a 24-hour flight service station. It was named after Jim Barber, a Flight Lieutenant in the Royal Canadian Air Force. During the Second World War, Barber was awarded the Distinguished Flying Cross, the Canadian Volunteer Service Medal and Clasp for volunteering and serving overseas, and the France-Germany Star for seeing action in the European war theatre. His heroic exploits included saving his crew by bringing his damaged airplane safely back to base and flying low under enemy fire to drop his bomb load on strategic sites. After returning to Canada, he spent the rest of his aviation career as a highly regarded and respected bush pilot in northern Saskatchewan.
A new terminal building was opened in 1988 to service scheduled and charter flights as well as itinerant traffic. In 1998, the Airport was transferred to the Town of La Ronge, which, today, helps subsidize its operating expenses. "It is almost self-sufficient," Burr notes. "However, the Airport provides a real strong economic driver that certainly makes that subsidy worthwhile in terms of employment, services, and business for people in the community. Depending on the time of the year, there are upwards of 150 people employed here."
"We are consistently the third busiest airport in Saskatchewan next to Saskatoon and Regina," Burr adds. "That is largely due to the fact that we are a transportation gateway to many communities and industry in the north and the uniqueness and convenience of access to float-based operations, not to mention ski-based operations in the winter. So, in that respect, we're the only airport in this area that provides that kind of a link and support." There is also a helicopter base on the airfield and two more in the La Ronge control zone just a couple of miles from the Airport. The helicopter companies provide vital services necessary for operations in the remoteness of northern Saskatchewan.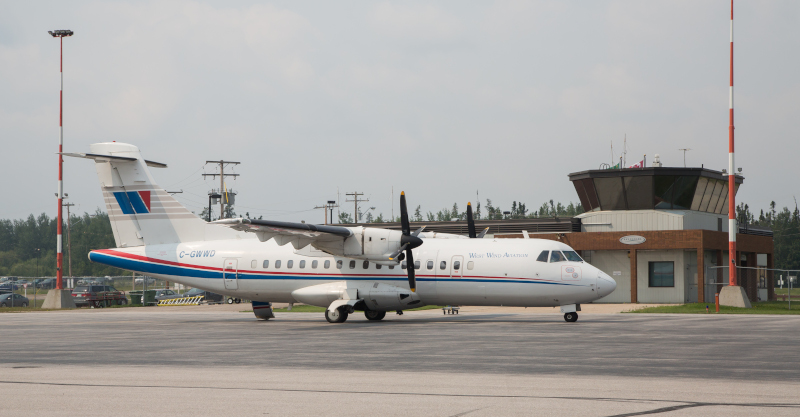 Burr continues, "We're a significant hub for medivac services, police services, government officials, judicial services, medical professionals, education, contractors, the mining industry, Sask Power, SaskTel, search and rescue, air cargo, fire suppression and flight training. We are also an important link for the First Nations communities in northern Saskatchewan."
La Ronge Airport is home to eight commercial hangars, some owned by air carriers that provide scheduled and charter air service. "The provincial air tanker fleet for the suppression of forest fires also has their main base here including two hangars and a tanker base," Burr adds. "Their tanker base is at the northern end of our airfield and used for flight ops and loading their air tankers; they have seven air tankers and eight bird dogs." Also at the airport are two refueling companies and some private users that have hangars for small aircraft.
Northern Saskatchewan is also a hotspot for tourism and for fishing camps. "We get general aviation aircraft from all over Canada and the United States." Burr says. "So, we get a lot of that kind of traffic too – people in transit to tourist locations in the north, charters with clients destined for a fishing trip at one of the many renowned fly-in fishing camps in northern Saskatchewan. We have quick access to the lake. It's a short five-minute drive to the two water bases on the shoreline of downtown La Ronge, so it's easy for the charter companies who are servicing these clients to get them from a wheel-based aircraft to an aircraft on floats." The airport also offers direct access to the lake from the airfield enabling operators to take float planes in and out of the water. Operators can have their float planes serviced or stored.
Currently on Burr's to-do list is the development of some mid-sized hangar lots. "We've had a lot of inquiries from individuals and companies that are looking for lots they can develop," he explains. "We have full-size commercial hangar lots and we have small private lots, and these interested parties have expressed that the small ones are too small and the large ones are too large for their needs. So, we recognize that there's a need to offer something more suitable. They will be completed by the end of this year."
There are also provisions in the airport's zoning regulations to lengthen the runway, as required, if there is a future need to accommodate larger aircraft than are now being served. Currently the largest aircraft that regularly use the Airport are the ATR 42, SAAB 340, and the Convair 580 (air tanker). King Airs, Beech 1900s and Twin Otters are also regular users. "We frequently have C-130 Hercules military aircraft here refueling and/or performing training exercises as well as aircraft like the DC-3," Burr notes.
Future goals include encouraging non-aviation businesses to locate at the Airport. "We are always interested and welcome inquiries," Burr remarks. "We have land on airside and groundside that is available for development. Our lease fees and services are very competitive and anyone – private or corporate – interested in development and taking advantage of doing business in northern Saskatchewan would do well to consider the La Ronge Airport."
A regional airport with large responsibilities, the Barber Field Airport is aiming to build on its past legacy of service, while looking forward to a bright and sustainable future as the aviation hub of northern Saskatchewan.
AT A GLANCE
WHO: Barber Field Airport, La Ronge
WHAT: A regional airport
WHERE: Near Lake La Ronge in northern Saskatchewan
WEBSITE: www.cyvc.ca/airport
[penci_related_posts dis_pview="no" dis_pdate="no" title="Latest" background="" border="" thumbright="no" number="4″ style="list" align="none" withids="" displayby="recent_posts" orderby="rand"]