Contra Costa County Airports
New test site opens
Business View Magazine interviews representatives of Contra Costa County Airports, as part of our series on regional American airports.
The Buchanan Field Airport is a public airport in Contra Costa County, California, a mile west of the center of the city of Concord and east of Pacheco. The Airport was originally established in 1942, and soon taken over by the United States Army Air Forces' Fourth Air Force. The Army added land and built airport facilities and a training base for pilots. In 1946, the War Assets Administration returned the Airport to the county. In 1947, the transfer was formalized and the Airport was named for County Supervisor, William J. Buchanan, who served on the County Board of Supervisors for more than forty years. The airport continued to be used, on occasion, by the U.S. Army to transport troops, especially during the Korean War.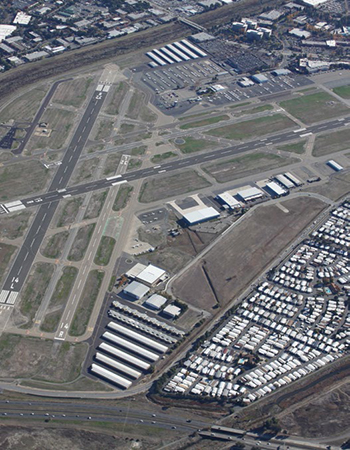 Buchanan Field Airport covers 495 acres and has four asphalt and concrete runways: 1L/19R is 5,001 by 150 feet; 1R/19L is 2,770 by 75 feet; 14L/32R is 4,602 by 150 feet; and 14R/32L is 2,799 by 75 feet. While over the years, the Airport has had regular commercial airline service, today, it is only served by JetSuiteX, which runs scheduled charters between the Airport and Burbank, CA, and Las Vegas, NV, and, according to Keith Freitas, Director of Airports for Contra Costa County, is hoping to expand its service to San Diego, Phoenix, Portland, and Seattle. The Airport is also the home base of approximately 450 general aviation aircraft and over two dozen business jets, as well as many aviation and non-aviation based businesses, including: three FBOs, several air charter and leasing companies, flight schools and flying clubs, an air medical transport firm, a U.S. Air Force Auxiliary Civil Air Patrol, a Crowne Plaza Hotel, restaurants, car sales and rental companies, a Sam's Club, and the Buchanan Fields Golf Course.
Byron Airport is Contra Costa County's other air facility. It opened in 1994 to provide greater services to the eastern part of the county. Located approximately three miles south of the Town of Byron, the Airport covers 1,421 acres and has two asphalt runways: 12/30 is 4,500 x 100 feet, and 5/23 is 3,000 x 75 feet. It is an ideal facility for general aviation and a popular base for skydivers, gliders, and other recreational flight activities.
Freitas says that finding a niche for Byron Airport has been a major objective of his for the last two years, and now reports that he has successfully established the airfield as the Bay Area Test Site (BATS) for developing UAS (Unmanned Aircraft Systems) and products that need aviation testing and development environments. "In March of this year, we signed an agreement with one of the seven designated FAA test sites in the United States," he explains. "We're now a satellite location for the University of Alaska, Fairbanks, and their Pan Pacific UAS Test Range."
The Pan-Pacific UAS Test Range Complex spans seven climate zones, allowing UAS manufacturers and potential users to test their equipment in the Arctic, the tropics, and in arid environments. Managed by the University of Alaska Fairbanks, the test site builds upon ongoing work of the Geophysical Institute's Alaska Center for Unmanned Aircraft Systems Integration (ACUASI). The University of Alaska Fairbanks provides the expertise and process to complete the necessary FAA airspace and flight operations authorizations for UAS airspace testing including associated fee(s) for acquiring a Certificate of Authorization.
Freitas notes that Byron became a new test location for the University because they were losing engineers who were not happy being sent to its two of its other locations – one in Oregon and another in Nevada – for four to six months. In addition, the county's two-airport system offered the advantage of testing in two different environments. "Byron, because it's in the far east of the county, has less dense airspace, so it's easier to do some of that testing," he explains. "As these operators want to progress into a more complex airspace, Buchanan provides that; it has an air traffic control tower and it's closer to the more congested airspace of San Francisco and Oakland. So, we're kind of a great test bed because we have the remote airport as you start that initial testing, and when you have to get into more complex testing, you can come to Buchanan Field and do that."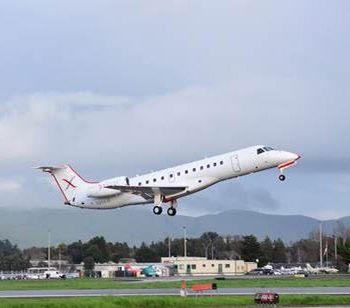 In addition, both airports have a selection of offices, workshops, and hangars available for short-term and long-term lease; there are full-service aviation providers at the two facilities that include pilot training, aircraft rental, aircraft maintenance, avionics, fabrication, aircraft storage, fuel, and other specialty aviation services; and because of Contra Costa County's strong relationship and a proven track record with the FAA, it can assist UAS companies to acquire the required operational and/or airspace permits and waivers.
Meanwhile, Beth Lee, Assistant Director of Airports for Business & Administration reports that both airports have development projects under various stages of completion – six at Buchanan and three at Byron. "Not included in that list is the county-sponsored, general aviation terminal at Buchanan that has the ARFF (Aircraft Rescue and Fire Fighting) and the administration offices," she states. "That is moving forward. We're in the final stages of design with the expectation of going out to bid, shortly after the new year and starting construction sometime next spring. And the runway overlay of our secondary, crosswind runway is in construction, right now, and scheduled to be done by the end of September." Lee adds that of the nine projects mentioned, four are for non-aviation uses, and that two of them will break ground next spring. "We are very business-friendly, here," she says. "We work with all parties and try to accommodate them on the airfield."
Freitas adds that Buchanan Airport was recently selected to receive a $3.1 million FAA grant for upgrades to its security systems. "That will start in 2021," he says. "And then, the next big project after the terminal in 2022, we will start the Airport Master Plan. Every ten years, the FAA asks for an upgraded Master Plan. We spent just shy of four years working on the last one. It will cover what new development will look like, things like runway configuration, etc. It will be a significant process for us."
[penci_related_posts dis_pview="no" dis_pdate="no" title="Latest" background="" border="" thumbright="no" number="4″ style="list" align="none" withids="" displayby="recent_posts" orderby="rand"]