Crater Lake-Klamath Regional Airport
Military and more
Business View Magazine interviews representatives from the Crater Lake–Klamath Regional Airport, as part of our series on U.S. regional airports.
Crater Lake-Klamath Regional Airport is a public-use, general, and military aviation airport in Klamath County, Oregon, five miles southeast of the City of Klamath Falls. It is categorized as a primary commercial service airport, and it is the home base of the Air Oregon National Guard's 173rd Fighter Wing and its squadron of F-15 Eagle fighters. The 173rd FW specializes as an advanced air-to-air combat training center for Regular Air Force and Air National Guard F-15 pilots, as well as hosting joint and combined air combat exercises for all U.S. military services and those of Canada.
"We're a very unique airport in the industry," says Crater Lake-Klamath Regional Airport Director, John Barsalou. "I think there might be only a few other airports like us in the country, where we're not joint-use or shared-use under the FAA definition. In other words we're not owned and operated by the DOD (U.S. Department of Defense) or the Federal Government, but yet the military has a large presence; over 38 percent of our ops are military operations."
Like many regional airports in the country, Crater Lake-Klamath Regional Airport's origins date back to the years following WWI. "In this case, it was 1928, and a decision by voters to approve the sale of $50,000 worth of bonds to build an airport," says Business Manager, Linda Tepper. "That was kind of the beginning of aviation across the country, and the citizens of Klamath Falls decided that they wanted to be part of that trend. It took a couple of years before the Airport was actually constructed; we had a couple of gravel runways and one large hangar in the beginning."
"Probably what really started the Airport growing was in 1942, when the Navy selected it for a naval airbase," Tepper continues. "That actually jump-started a lot of development and our long history with the military. After WWII, the Navy actually stopped the mission they were doing, but not long after the Navy transition, the Air Force started operations. So, the Air Force has been with us in some form or fashion, pretty much uninterrupted, since then, and it's now the Air National Guard that's a military presence on the field."
In addition to the military and general aviation aircraft at Crater Lake-Klamath Regional Airport, the Airport is also home to two cargo companies, Ameriflight (UPS) and FedEx; Century Aviation, a FBO and charter company; AirLink, which provides critical care transport; Fairmount Aviation (recently purchased by Century Aviation), which provides hangar space for corporate aircraft; Pelican Aviation, a flight school; and U.S. Forest Service Tanker base. Currently, there is no commercial service at the Airport – a situation Barsalou and Tepper would both like to see change.
"Our first commercial air service started in 1947, with United Airlines and we had service, uninterrupted, until June of 2014," Tepper explains. "We lost our United Express service at that time and it took us almost two years to get it back. We got service back by PenAir (Peninsula Airways), and they lasted not quite a year. So, since August of 2017, we've lacked commercial air service."
One reason for the dearth of commercial traffic is the Airport's location. It's 70 miles east of Medford, Oregon, a larger city, which has made it difficult to attract and retain commercial service at Crater Lake-Klamath Regional Airport. Klamath Falls residents see Rogue Valley International-Medford Airport as a more viable option for commercial air service, even though it's a one-hour and 15 minute drive from their homes.
Tepper explains that Medford's much larger population has translated into the ability to support more airlines and more destinations. And the resulting competition leads to lower fares. "When people have to fly into here, they (the airlines) charge a little bit more and as a result, that becomes a big deal," remarks Barsalou. "So, it seems that even if folks have to drive in the winter time over a mountain pass, they'll do it if they can get a flight that's $20 cheaper."
"That's a difficult battle for us; to be able to provide something here, locally, that is attractive to our customer base," adds Tepper. "And of course, the commercial industry airline trend, which is moving to larger aircraft, makes it even more difficult for a smaller community to fill those planes to a profitable level where the airlines feel that they can justify offering service."
Crater Lake-Klamath Regional Airport, which is owned by the City of Klamath Falls, has just six employees, but Barsalou and Tepper point out that its economic impact, in terms of employment, far outstrips that small number. In fact, the Airport generates more than $85 million annually for the regional economy in the Klamath Basin. The Oregon Air National Guard is Klamath County's third largest employer, with more 1,100 Guard members, contractors, and other workers attached to the base. And there are another, roughly, 80 part-time and full-time, non-National Guard-related people who work at the Airport, as well.
However, even with the typical revenues of rentals, landing fees, and fuel-flowage fees, the Airport, itself, is not self-sufficient, and has to rely upon City of Klamath Falls property tax revenue and a share of the City's portion of the county's transient room tax revenue to help fund operations. A couple of ways of generating additional revenue are under consideration – one of them centers on hangar space.
Barsalou says Crater Lake-Klamath Regional Airport didn't own any hangars until two years ago. Instead, it leased the land and the hangars, all 58 of them, were owned by individuals. "Throughout the last couple of years, as those tenants have wanted to sell their buildings, there's a provision in a lot of the leases that allows the Airport the first right of refusal," he explains. "For the first time, we've taken them up on that option to purchase a couple of the hangars. So, we now own two hangars and we have a waiting list of eight people to rent those hangars – rather than purchasing them."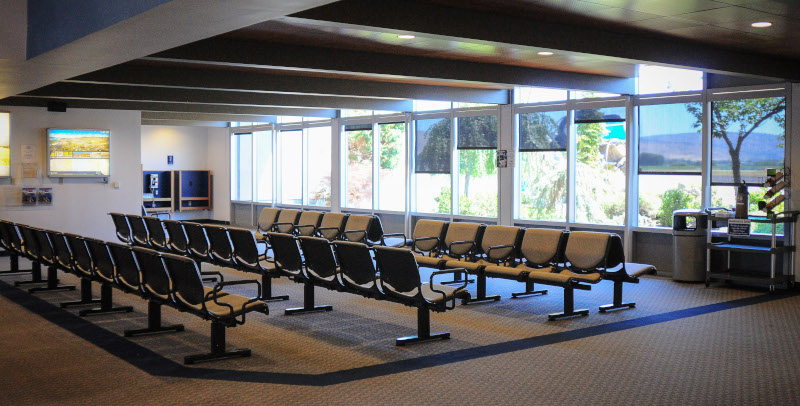 But that waiting list isn't a strong enough indicator of demand to justify the construction and operational costs for new hangar space, says Barsalou, who is seeking ways to "whittle away" the Airport's annual $1.2 million operational shortfall. "The problem we often have when we try to 'pencil it out' is while there is some demand, the cost that people are willing to pay for hangar space is still relatively low," says Tepper. "As a city entity that has to pay prevailing wages for a project of this sort, it costs us out of building hangars, based on what we can get the local market to bear for the rental of those hangars. We're constantly trying to figure out a different way to fund those hangar constructions to bring that break-even point down a little closer to what we think would justify the building of that project."
Creating a business park on Airport property is another option under consideration. Sufficient land is readily available and has been set aside. Tepper says, because the Airport plans to lease the land for the business park, rather than sell it, it requires more searching to find "that right kind of tenant" who is interested in that type of arrangement.
Regarding the Airport's capital projects: a new taxiway was recently completed on the Airport's northeast side, Taxiway Bravo. It connects to a previously constructed apron that has had its pavement sufficiently thickened to handle aircraft as large as a DC-10. Barsalou reports that the apron area is in the process of being developed for commercial-use hangars.
"It opened up a considerable amount of area on the Airport's east side that is now available for development," says Tepper of the project. "The key for us is some of the larger scale developments. So, we have some space on the west side where we can build some general aviation, but in terms of being able to build something larger, an MRO facility or something that can handle larger aircraft, that Taxiway B construction essentially allows us to open that area up for those types of developments."
"We're just finishing our inventory chapter of the Airport's Master Plan, and now we're going to work on what's coming in the future," Barsalou says. "I think there is some opportunity for the development of private hangars, as well as corporate, and I'd like to see the development of both. Whether the Airport does it or we end up in some type of lease arrangement, I think it's a way to generate more income for the Crater Lake-Klamath Regional Airport to help turn that $1.2 million thing around. All I can do is chew away at it. Some tenants are concerned with, 'Well you're going to raise my rent, you'll triple my rent, or you're going to quadruple my rent,' and that's not really my goal, at all. I see it as just chipping away at that number rather than, wholesale, trying to flip it on its head. I just don't see that happening."
Citing predictions of a future uptick in demand for aviation professionals, such as pilots and mechanics, Tepper says discussions have been held with the Oregon Institute of Technology and Klamath Community College about the Crater Lake-Klamath Regional Airport playing a role in helping to fill those jobs. "We have a lot of great personnel coming out of the Air National Guard with their F-15 program that could supply some good synergies with those types of programs," she says. "They certainly have a lot of personnel who are doing aircraft maintenance. They just need the civilian certifications to be able to transfer that career, when they're done with the military, over to the private sector."
Check out this handpicked feature on The Wichita Falls Regional Airport – The best in customer service.
AT A GLANCE
WHO: Crater Lake–Klamath Regional Airport
WHAT: A public-use, general, and military aviation airport
WHERE: Klamath Falls, Oregon
WEBSITE: www.flykfalls.com
[penci_related_posts dis_pview="no" dis_pdate="no" title="Latest" background="" border="" thumbright="no" number="4″ style="list" align="none" withids="" displayby="recent_posts" orderby="rand"]