Leadville-Lake County Airport
Reaching higher
Welcome to Leadville-Lake County Airport (aka Leadville Regional Airport) – North America's highest public use airport that soars to impressive heights at an altitude of 9,934 feet! Located two miles southwest of the charming City of Leadville, the airport plays a significant role for the local communities of Lake and Summit Counties, linking them to the National Air Transportation System. Due to its elevation, Leadville Regional Airport has become recognized the world over for high altitude testing and training for the military and aerospace companies.
With an average of 310 days of sunshine a year, historic silver mining boomtowns, the state's highest peaks, and abundant public lands, Lake County, Colorado, features countless opportunities for year-round, high-country fun. Leadville's own history as a frontier mountain town is filled with dramatic stories of real people who made and lost fortunes in the silver rush. Today, seven museums, a mine tour, a walking tour, and a driving tour let you experience life during those boom times. Walk Victorian downtown Leadville and the historic village of Twin Lakes. Find World War II foundations at Camp Hale, feed the fish at the historic hatchery, follow a long-time rail route on the Leadville scenic train… once you've arrived the first time, you'll definitely want to return. Or maybe put down stakes and relocate. The Leadville area is an ideal setting to live and do business.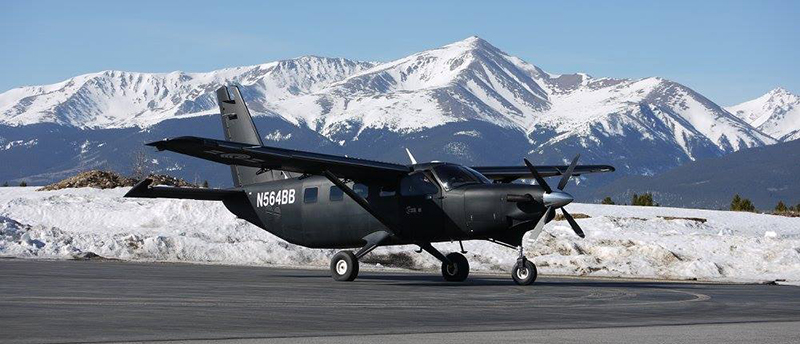 And getting there is a pleasure all its own thanks to the convenience, professional service, and friendly atmosphere at Leadville-Lake County Airport. Equally popular in all seasons, the airport's proximity to several major ski areas makes it an ideal jumping off place for winter sport enthusiasts. Leadville receives more than 156 inches of snow annually! But not to worry, the very capable snow removal team keeps the airport open and operating safely year round, so you'll never miss a powder day.
The Airport was originally built in the mid-1960s as a privately-owned facility and remained that way until 2009, when ownership was assumed by Lake County. In 2019, the new owner utilized an FAA grant of $5.8 million to make upgrades to its 6,400-ft. asphalt runway and taxiways. Additional upgrades, such as drainage improvements and new lighting systems were also accomplished at that time. APC Southern was the major contractor for the runway project and did a superior-quality paving job. They are touted by Airport Manager Brett Cottrell as "a really good company and a great group of people to work with." He also gives a shout-out to "two key people who are responsible for the growth and development of this airport over the years: Director of Public Works Michael Irwin, who has been with the airport since the County took it over, and County Commissioner Kayla Marcella, who is key in connecting the economic development engine supporting Lake County's vision."
For the last five years, Leadville-Lake County Airport has been self-sustaining and actually generating a profit thanks to the large quantity of helicopters utilizing the facility for testing. The airport happens to coincide with one of their critical benchmarks – height velocity diagrams at just short of 10,000 ft. – an excellent altitude for testing of any type.
Conveniently open seven days a week, Fixed Base Operations is located in a newly-built contemporary facility that rivals any airport office in the region. Leadville-Lake County Airport is also home base to eight GA aircraft, with two private hangars that are currently full. In addition, the County owns a new 100×110-ft. heated, insulated, and plumbed hangar for commercial operations. Right now, it's serving a dual role – available for when a large jet or helicopter wants to use it and, when that doesn't take place, it can house six GA aircraft. If parking on the ramp is preferred, tie down fees for small aircraft are some of the most economical in the area.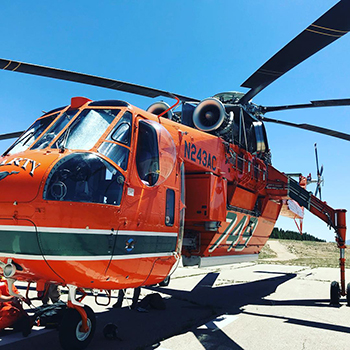 In an effort to expand the hangar space, Airport representatives have been meeting with a business consultant to determine the path forward. The current master plan calls for building two helicopter pads to the east of the existing airport property and to build a couple hangars along that stretch. The goal in meeting with a business consultant is to develop a business plan for growing the airport that includes added infrastructure, increasing ramp length, and having investors come in to build hangars. Because there is a lot of interest from people asking to park and maintain their aircraft at the airport now.
Having the title "North America's Highest Airport" is a good draw for the Leadville-Lake County region, and while they can't compete with Aspen, they do offer a viable option because the airport is located less than an hour from 10 major ski resorts. Vale and Beaver in under an hour; Keystone and Breckenridge in 45 minutes, as well as a number of popular smaller ski resorts within easy reach. And people don't have to fight the 1-70 crunch to get there. So the airport is channelling its marketing strategy in that direction.
The regional FAA office in Colorado, as well as the Colorado Department of Transportation Aeronautics Division, are well aware of how good a job the County does in keeping the runway and the aprons plowed and clear of snow for winter traffic; they have the equipment; the expertise; and the ability to keep it maintained. The issue is having more ramp and hangar space available. In that regard, Lake County is pursuing an industrial park just outside the fence line that is part of the airport design, as they develop a plan to generate business investment opportunities for building in that area. Inside the fence line, there is space available north and south of the current FBO office that is east of the runway. Given that the runway is 6400 feet and only 500 ft is occupied, that leaves plenty of land open immediately adjacent to the taxiways, mostly for hangar space.
"Friendly, accommodating, scenic, accessible, congenial" – these are some of the many compliments heard from executives that fly in to Leadville-Lake County Airport on corporate and private jets. They're pleased with how easy it is to pull in off the runway and that there are good people to help at the gate. And you can't beat the view – the two highest mountains in Colorado covered in snow. Leadville is a small town with a cozy environment, overall a unique, historic place and an idyllic destination. It just doesn't get any better.
AT A GLANCE
LEADVILLE-LAKE COUNTY AIRPORT
WHAT: "North America's Highest Airport"
WHERE: Lake County, Colorado
WEBSITE: www.klxvairport.com
[penci_related_posts dis_pview="no" dis_pdate="no" title="Latest" background="" border="" thumbright="no" number="4″ style="list" align="none" withids="" displayby="recent_posts" orderby="rand"]