The Grant County Regional Airport
Promoting aviation
Grant County Regional Airport Manager, Haley Walker, believes that continual improvement means more than just paving runways, installing safety equipment, and constructing helipads; it also means investing in the local community and the future of aviation. In addition to hosting a regular aviation field day for all sixth-graders in the rural Oregon county, the Airport offers a paid summer internship. Each year, one high school graduate from Grant County gets hands-on experience fueling planes, inspecting runways, and interacting with pilots. "So, we're not just operating an airport, we're trying to promote aviation," says Walker.
Grant County Regional Airport is located about three-and-a-half hours northwest of Boise, Idaho. It is within the Urban Growth Boundary of the City of John Day and is designated as part of an Economic Enterprise Zone that confers specific tax benefits on qualified businesses. There is vehicle access to nearby Highway 26 and the adjacent John Day Industrial Park.
The Airport sits at an elevation of about 3,700 feet, with two runways. The north/south Runway 17/35 is 5,220 feet long by 60 feet wide. The east/west Runway 9/27 is also 60 feet wide and 4,471 feet long. The east/west runway was recently shortened as part of a project to decouple the two runways to increase spacing on the airfield, and there are plans to add this length back onto the west end of runway 09 in the future. It's one of two recent capital improvement projects. Walker reports, "We just wrapped up our corporate apron reconstruction project, where we made our corporate ramp apron a much safer and more accommodating area to operate aircraft, including the fire aviation aircraft."
Grant County Regional Airport is home to the helibase and training center for the United States Forest Service Malheur Forest's rappeler firefighters. This group is prepared to respond to any report of smoke in the nearby Malheur National Forest and the Strawberry Mountain Wilderness. They also mobilize for large fire support missions all across the lower 48 states and Alaska. The program hosts seven aircraft; one Bell 210 rappel ship, one A-star helitack ship, one UH-60 heavy helicopter, one UH1H, two single engine air tankers, and one light fixed-wing. The partnership between the airport and United State Forest Service has been an important one. "A lot of our improvements came about, I believe, because of the association of the U.S. Forest Service and the firefighting," recalls Doug Ferguson, a member of the Grant County Regional Airport Commission. "Our activities up here go hand-in-glove with what they do, and so much of the improvements to this place come about due to that need."
Ferguson can remember being a kid in the late 1950s before the Airport was built. Pilots used to land by a river until the mid-1960s. The airport, also known as Ogilvie Field, started with just a basic, north/south runway. The east/west runway was built in the 1970s. A GPS instrument approach with 600 foot minimums is supplemented by a fully-automated weather observation system (AWOS III). The lighting system uses variable intensity runway lights and high intensity strobes.
A new, environmentally-sound terminal was built in 2010, with two conference rooms available to rent for presentations and events. They were designed for flexible seating arrangements and have the technological infrastructure to meet the needs of almost any group or meeting, including overhead audio visual equipment and multiple in-floor IT terminals. An adjoining kitchen is available for banquets and luncheon meetings. The main lobby draws on the rugged outdoor aesthetic of Eastern Oregon, with a stone fireplace, comfortable seating, and two flat-screen televisions. The observation deck, located on the third floor above the main entrance, offers a full, 360-degree view of the entire Airport complex and the spectacular landscape beyond its boundaries.
The Airport, itself, now encompasses approximately 335 acres with plenty of room around that perimeter should expansion become necessary. Grant County owns and operates the Airport, but the terminal is owned jointly by the county and the U.S. Forest Service. There are three county employees, plus one intern for about 10 weeks in the summer, and at least 20 U.S. Forest Service employees, as well. The Airport terminal is staffed eight hours a day, six days a week in the winter, and 12 hours a day, seven days a week in the summer. The Airport is never closed, except for snow plowing. It is the only public airport in Grant County, Oregon, with fuel (JetA and Avgas).
The facility has 16 private hangars and one county hangar. Several hangar land spaces are available for lease, each with 200-foot parking apron frontage. City water and sewer, power, and phone lines are within about 100 feet of the sites. Leases are for 40 years, renewable and priced at $0.16 per square foot per year. An area on the north end of the airfield has already been approved for additional hangar space. At this time, the county does not have plans to build anymore hangars but ground leases are available to any private developer who wants to build new hangars. The planes at Grant County Regional Airport are, primarily, privately owned. A company called CO Fire Aviation occupies one of the hangars and there is room to grow for additional companies
Funding for the airport comes from its own operations. "We are considered self-sufficient in the county budget, so our job is to generate revenue to operate the airport," Walker explains. "We do receive a management fee from managing all the common space and utilities for the Airport, and we receive that from the forest service as part of our agreement on the joint terminal." Money for the recent decoupling and apron reconstruction projects came from the Federal Aviation Administration and the Oregon Department of Aviation. Grant County Regional Airport was one of only two airports in Oregon to receive supplemental funding for recent projects without having to provide a match.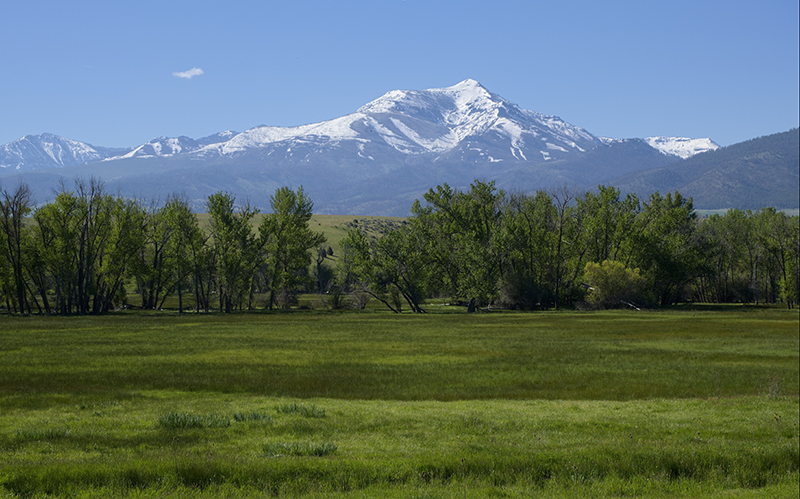 There are plenty of projects on the table for the next five to ten years, such as helipad construction and land acquisition for control of the Runway Object Free Area and Runway Protection Zone. Taxiway A will eventually be rehabilitated; that will include the installation of a new Medium Intensity Taxiway Lighting System and widening the taxiway to 35 feet with additional connectors as needed. A new taxiway, known as Taxiway C, is expected to be built on the west side of the north/south Runway 17/35 with associated connectors. This will allow for additional development in the area and through-the-fence operations from the industrial park.
Other projects on the horizon include installation of Precision Approach Path Indicators as well as Runway End Identifier Lights on the Runway 27 end. A new, 11-foot wildlife fence will also be installed around the perimeter of the airport. "And that's important for aviation safety, because we do have a lot of wildlife around the area," Walker notes.
But while there are plans for new construction, rapid growth isn't the highest priority for the Grant County Regional Airport. Instead, the Airport employees and commissioners are focused on ensuring the best customer experience possible and continuing to be a great community partner. "The message I would want to make sure that we get across is that we offer an Airport that is aviation friendly, in weather and facilities and safety," Walker says in conclusion. "And the three things that we try and do best are safety, service, and continuous improvement."
AT A GLANCE
THE GRANT COUNTY REGIONAL AIRPORT
WHAT: A public-use airport
WHERE: Grant County, Oregon

Eastern Oregon University – https://online.eou.edu
"Experience a high-quality online education with EOU's online degrees and prepare yourself for a diverse, interconnected world. EOU offers a variety of flexible, affordable online programs at the undergraduate and graduate levels, combining personal attention with academic excellence. We are proud to offer competitive tuition, expert faculty and a supportive learning community for students."
[penci_related_posts dis_pview="no" dis_pdate="no" title="Latest" background="" border="" thumbright="no" number="4″ style="list" align="none" withids="" displayby="recent_posts" orderby="rand"]