The Heart of Georgia Regional Airport
Accessibility and customer service
Business View Magazine interviews Jeff Fordham, Airport Manager of the Heart of Georgia Regional Airport, as part of our series on regional American airports.
The Heart of Georgia Regional Airport is located three miles east of the City of Eastman in South Central Georgia, and services general aviation air traffic from all over the southeast United States. The Airport was originally built by the State of Georgia for the Stuckey's Corporation to support its business operations. "Mr. W.S. Stuckey, who started the candy company here in Eastman, Georgia, selling pecan log rolls by the side of the road, kept expanding and started putting stores all up and down the Interstate," explains Airport Manager, Jeff Fordham. "They had a Piper Aztec, and their airstrip was not long enough, so they came out here and built the Airport because they needed a place to land their bigger planes."
When the facility was officially dedicated in December 1966, then Governor Carl Sanders hailed the $232,000 Eastman-Dodge County Airport as "the first community airport in Georgia that we have built specifically to accommodate the modern business jet airplanes that are becoming so important in one industry after another." Today, the Heart of Georgia Regional Airport is owned and operated by Heart of Georgia Regional Airport Authority and is overseen by a seven-member Board of Directors, made up of two members from the Eastman City Council, two members from the Dodge County Board Commissioners Office – one is a sitting board member from each of those, and one is an at-large appointment – and two members from the Dodge County-Eastman Development Authority – one is a board member, one is an at-large appointment. The seventh member is appointed by the Georgia House of Representatives.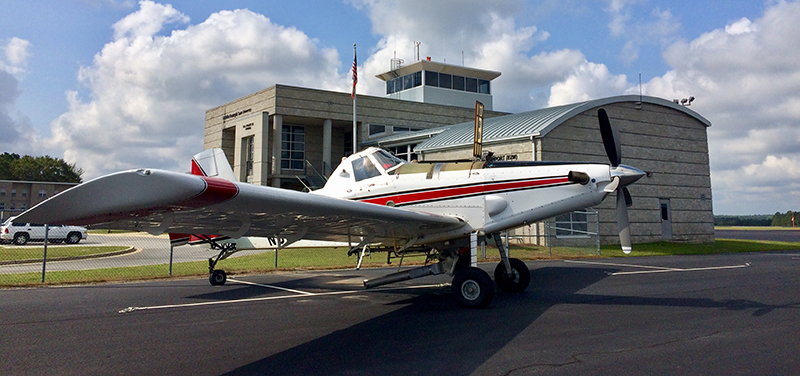 The Airport's original 4,500-ft. runway was lengthened to 6,506 feet in 2004, and equipped with a precision instrument landing system and a landing capacity of 100,000 pounds. A new terminal and tower were completed in 2005. The Airport supports between 300-400 operations per day, comprised of general aviation, corporate, military, flight training, customs and border patrol, air ambulance, and aerial agricultural traffic, making it the 5th busiest take-off and landing airport in the state.
Over the last several years, the Heart of Georgia Regional Airport has also become a major aviation education presence in the Southeast. It is home to Middle Georgia State University's Aviation Center – Georgia's only state-supported aviation center – which trains pilots and airport and airline management majors, while giving airframe and power plant students the skills required to build and maintain aviation assets. The school's flight program is FAA-approved, and its campus at the Airport is home to a fleet of 30 airplanes, four helicopters, and several advanced simulators used in training and instruction. In 2007, the school's Air Traffic Control Management program was named the top new ATC program in the nation by the FAA.
The Airport is also home to several aviation manufacturing and maintenance firms. Fordham Aviation Inc. provides aircraft maintenance services; KENCOA Aerospace LLC is a premier Tier-1 supplier of multi-axis precision machined and sheet metal fabricated aerostructures, jet engine components, and major assemblies for commercial, military, and business/regional jets, worldwide; AREMAC Heat Treating East, LLC, is a nationally recognized heat treatment company; and Valence Surface Technologies is a full-service metal finishing company for the aerospace industry. Machining, heat treatment, and finish coating, located next door to each other on the same airport – a unique capacity that isn't repeated anywhere in the country – means a much faster turnaround for parts manufacturing and final delivery to companies such as Boeing, Airbus, Lockheed-Martin, Gulfstream, and Sikorsky.
All of this activity means that the Heart of Georgia Regional Airport plays a vital role in supporting the region with 376 jobs with an annual payroll of $14,700,000, and $37,169,000 in economic output for the local and regional economies.
As airport tenancy continues to grow – there are currently around 60 private and corporate home-based aircraft on property – Fordham says that he would like to see more hangars built by private developers – as opposed to the county footing the bill. "Right now, everything is owned by the Airport and rented out. We have 18 hangars and they're all full. There's a lot of land on the west side of the airport; most everything has been developed on the east side. I think there's a couple of hundred acres, at least, that's available to develop with more to be obtained if we need it," he notes. "We're getting ready to do an apron re-hab project – we're still working on the cost for that; it should be somewhere around a million dollars. We also want to put in a taxiway into an area where we can build more hangars or have ground leases so others can build hangars. I think it's better if people build their own hangars."
Fordham says that the Airport's 6,506-ft. runway is currently able to handle any normal traffic. "There was some talk about lengthening the runway, but we haven't gotten that solidified yet," he shares. "Right now, we've got a very good runway with two parallel taxiways and the pavement is in pretty good shape. So, I don't foresee having any resurfacing projects within the next five years or so."
Regarding any potential competition from nearby airports, Fordham says that Heart of Georgia has lots of services available that one wouldn't necessarily find elsewhere. "We have everything from catering, to courtesy cars, to 24-hour fuel availability for jets and pistons," he reports. "And our normal operating hours are a little bit longer; we're open 8-5 Monday through Saturday, and 12-5 on Sunday. And we don't mind staying till seven or eight o'clock at night if we need to. A lot of airports, after a certain hour, you can't get anybody; but we're pretty much available 24/7 if anyone calls. With COVID, we had to cut back on our hours, but we try to pride ourselves on our accessibility and our customer service."
AT A GLANCE
The Heart of Georgia Regional Airport
WHAT: A general aviation airport
WHERE: Three miles east of the town of Eastman in South Central Georgia
[penci_related_posts dis_pview="no" dis_pdate="no" title="Latest" background="" border="" thumbright="no" number="4″ style="list" align="none" withids="" displayby="recent_posts" orderby="rand"]