The Wilmington International Airport
Always looking ahead
The Wilmington International Airport (ILM) is a primary commercial service airport with general aviation services, located just north of Wilmington, North Carolina, in New Hanover County. The Airport was originally named Bluethenthal Field, dedicated on May 30, 1928, for Arthur Bluethenthal, a young Wilmingtonian who was killed while flying for the French, before the U.S. entered World War I. During World War II, the airfield was used by the United States Army Air Forces for antisubmarine patrols and training, using P-47 Thunderbolt aircraft. The Army expanded the airfield with three new 7,000-foot runways, and after the war, deeded the site back to New Hanover County for use as an airport.
In the 1950s, the Airport became known as the New Hanover County Airport; in 1988, it added "International" to become known as the New Hanover County International Airport. On December 17, 1997, the New Hanover County Airport Authority, the governing body that operates the facility, officially changed the name to Wilmington International Airport.
Today, ILM is served by three commercial carriers: American, Delta, and United. The three network airlines connect the local business and tourism industries to more than 390 destinations, worldwide. Charter airlines include Sun Country and Swift Air; cargo airlines include DHL, FedEx, and UPS. The Airport also has over 100 home-based GA aircraft, a mixture of private recreational planes and corporate jets.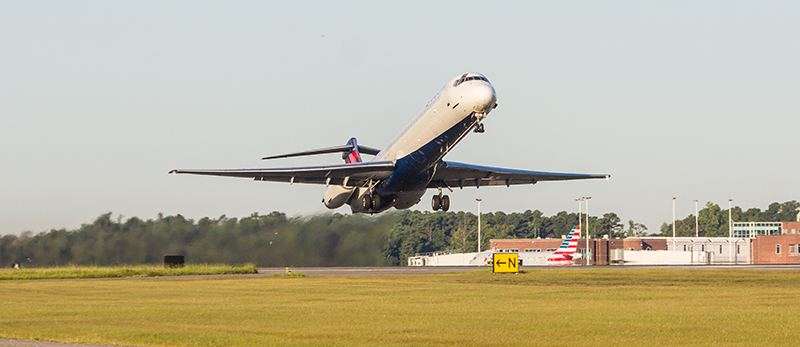 Julie Wilsey, ILM's Airport Director, reports that in 2019 the Airport achieved a milestone by breaking the one million passenger mark. "We had great momentum going into early 2020; we were up an additional seven percent through the end of February," she shares. "We were riding pretty well, and we were looking for a fourth commercial airline and growing our air service. In fact, we also had a non-stop to Boston on American Airlines that was scheduled to start in the summer. Then, in March the pandemic hit, and, at that point, we had to regroup and, like most airports and most organizations, make some changes to our goals that we had set for 2020."
The first decision incumbent upon Airport administration was to incorporate the "Safe Travels" protocols in order to keep both passengers and employees safe. Some of the key changes being implemented at the airport include:
Enhanced Cleaning and Disinfecting: In addition to general cleaning protocols, ILM continues to clean all major touchpoints on a schedule frequency of two to three times per day, utilizing a disinfectant which is listed on the CDC's approved disinfectant list.
Hand Sanitizer Stations: ILM has 19 hand sanitizer stations located throughout the Airport, including by the Airport's entrance doors, before and after the checkpoint, at the restrooms, and throughout the gate area.
Plexiglass/Sneeze Guards: These items have been installed to protect employees and travelers.
Social Distancing Floor Markers: Installed in order to keep a six-foot distance.
Seating Changes: Rocking chairs are spread out and placed in locations to socially distance.
Masks: Customer facing airport tenants and employees all wear masks.
Cashless, Self-Service Parking Lots: Parking lots that are credit card only have been opened, reducing the use of paper money and staff interface.
Modified Restaurant Menus: To expedite orders and reduce waiting in the gate area, Tailwind's restaurants offer grab and go, including a few hot options that can be taken to waiting areas.
Another decision was to continue work on ILM's $60-million terminal expansion project. "That is the one capital project that we continued," says Wilsey. "We made the decision because Wilmington is growing. We said, 'we need this; our passengers, our business travelers, and our tourists will return.' It was funded by the North Carolina Legislature and FAA, and we kept steamrolling ahead with the project. In fact, because of the pandemic and the lighter loads in the building due to fewer flights, we accelerated the second contract and finished that phase by July 1st. We added a third lane to the checkpoint; had the outbound baggage system commissioned; and had beautiful, state-of-the-art ticket counters installed."
"We were happy to complete the second phase in July," notes Granseur Dick, ILM's Director of Facilities. "And I think the passengers and the airlines are very happy with it. It mainly revolved around the expansion of our ticket lobby and the expansion of our ticket offices and counters. It did provide a space for any future airline that wants to come in, but also for future growth of the three existing carriers that we have. Additionally, it included an expansion of our baggage handling system for outbound bags. The new equipment is modern and replaces a system with 1980s technology. So, everyone is happy with that upgrade and the efficiencies that have come along with it."
"We also started contract three, which is the flashier piece," Dick continues. " That piece of the project adds size to our terminal giving us the capacity for growth over the next 20 years. It's broken down into two schedules of work, based on the way the construction has to work around an operating facility that has passengers going through it every day. We had to build the first schedule of work and get that open to provide an access route to our existing holding room before we demolish our existing pedestrian corridor. Once the demolition work is finished, our second schedule of work will complete the building expansion adding a dedicated exit lane, more concourse seating and ramp level storage spaces. So, we're looking at two opening dates: the first one is most exciting for us, when we'll finally be able to bring passengers into that new terminal concourse area. We are tracking for an unofficial date of Dec. 31, 2021 to open the concourse. We've been able to work a little more efficiently with our contractors as we've had fewer passengers than normal. So, we're tracking about two months ahead of schedule at this point.
"We have concrete floors in for the upper and lower sections of our building; we're installing key mechanical components – boilers, HVAC, new generators and electrical equipment. We're looking to install roof decking and exterior stud walls within the next month or two. So, by the end of the year, that new terminal piece will be enclosed and our contractors will begin to move inside. Some renovation work inside the existing terminal previously scheduled for the end of the project has been shifted to this fall in order to permit contractors to take advantage of the lower volume of passengers within the building interior. Hopefully, total project completion will occur in time for the holidays in 2022. The team has forged ahead, using the advantage of lower passengers where they could. So, if there is a silver lining for our industry, it certainly has been realized in the construction schedule and progress."
There has also been movement in some other areas of the Airport's operations. Wilsey reports that a second FBO will start construction in a few months and will open in early 2022. In addition, ILM's business park will have a new Circle K service station breaking ground soon, as well. "We think that the second FBO is an opportunity because they have two others under their control – one in Marathon, FL and one coming online in Lakeland, FL," she notes. "Because of that network, and with people travelling the north/south corridor on the east coast, it might bring some new GA traffic to Wilmington. The service station will be a great addition for people who drive along Airport Boulevard, people who work at the Airport, and rental car customers."
Regarding the terminal expansion project and any of the other new buildings being planned or constructed, Wilsey says that the Airport has been very deliberate to make sure that they reflect the local Wilmington community. For example, the terrazzo floors in the terminal were designed by local artists; ditto a large sculpture that is going to be installed in the concourse's main open space. The public art pieces capture the spirit of the coastal Cape Fear Region through permanent installations that welcome ILM's patrons, enhance the facility, and contribute to the local cultural aesthetic.
Going forward, Wilsey is optimistic about ILM's future. "We are at about 50 percent of our normal passenger loads, right now," she says. "For the fall season, we are flying five hubs with three airlines. It is a pretty good schedule, given all the industry has gone through. We will continue to gauge our success and look for a fourth airline and, maybe in 2021, we'll start looking for that south Florida connection that we want for inbound tourism and the gap in our network."
That's the Wilmington International Airport – always growing, always improving, and always looking ahead.
AT A GLANCE
THE WILMINGTON INTERNATIONAL AIRPORT
WHAT: A primary commercial service airport with general aviation services
WHERE: In New Hanover County, North Carolina
WEBSITE: www.flyilm.com

University of North Carolina Wilmington – www.uncw.edu
The University of North Carolina Wilmington, a doctoral university with high research activity (R2), is dedicated to learning through the integration of teaching and mentoring with research and service. With nearly 18,000 students enrolled, UNCW is committed to nurturing a campus culture that reflects its values of diversity and globalization, ethics and integrity, and excellence and innovation.

Talbert & Bright- tbiilm@tbiilm.com
Talbert & Bright provides aviation consulting services to a wide range of commercial service and general aviation airports throughout the southeastern United States. The dedicated professionals at Talbert & Bright help clients successfully implement airport improvement and expansion programs, from inception to completion. They offer a full range of services, to include planning, environmental, engineering, grant management, program and project management. Talbert & Bright is pleased to serve as Program Manager and Prime Consultant for the Terminal Expansion at Wilmington International Airport.

Modern Aviation – www.modern-aviation.com | info@modern-aviation.com
Modern Aviation provides essential services to the general aviation community based on the core principles of industry-leading safety, training, premium customer service, and quality.
Our dedicated and highly trained employees provide our services in up to date, current facilities utilizing modern technology and equipment.
[penci_related_posts dis_pview="no" dis_pdate="no" title="Latest" background="" border="" thumbright="no" number="4″ style="list" align="none" withids="" displayby="recent_posts" orderby="rand"]