The Winnemucca Municipal Airport
Taking advantage of FAA funding
Business View Magazine interviews Alicia Heiser, Airport Manager at the Winnemucca Municipal Airport, as part of our series on regional American airports.
The Winnemucca Municipal Airport is a general aviation facility located approximately six miles southwest of the City of Winnemucca, in Humboldt County, Nevada. The Airport was renamed Franklin Field on April 20, 2019, in honor of Lt. Col. Irl "Leon" Franklin, a decorated Vietnam War veteran and combat pilot who earned the Silver Star for his lead role in Operation Ivory Coast. The Airport has two asphalt runways – 14/32 is 7,000 by 100 feet and 2/20 is 4,800 by 75 feet – and two concrete helipads. There are no scheduled passenger services; there is a small commercial airport in Elko, NV, but the closest major commercial airport is Reno-Tahoe International Airport in Reno, some 166 miles to the southwest.
The Airport property is owned by the City of Winnemucca, and it is jointly operated and maintained by the City and Humboldt County. "In 1980, the city acquired about 857 acres, one 640-acre section plus 217 of another section from the BLM (Bureau of Land Management), and it was dedicated for airport development," notes Airport Manager, Alicia Heiser. "At that time, the City of Winnemucca started working more with the FAA grants program, and our first FAA grant was in 1983, to construct the west parking apron and taxiway. Since then, we've had 27 FAA grants, so we've definitely taken advantage of that program. We've done almost $20 million worth of projects – most of it with FAA funding and just a small chunk from local matching grants."
Heiser adds that the Airport has one FBO, Winnemucca Air Service, which is under contract with the city, that its hangars are privately-owned on city-owned land that is leased to developers, and that the Airport is self-sufficient. "It's not a huge money maker," she says, "but it's in the black."
Winnemucca Airport is home to a mix of private recreational and corporate aircraft. "Here in Nevada, we have gold mines as one of our main industries, so we do get that type of corporate travel, but we also have a fair amount of local, general aviation pilots," Heiser notes. "Pilots around northern Nevada like to stop in Winnemucca; we have fuel and the things that they need." In addition, the Airport is extremely active in the summer fire season as a BLM SEAT (Single Engine Air Tanker) base. "They really like our Airport," she adds. "It's in great condition because we take advantage of the FAA grants. We have two runways, one of which is 7,000 feet long, so we can accommodate almost any aircraft. We do have a heavy aircraft apron and hardstand, which allows them to park heavy aircraft if they need to, so it's a nice central base for the BLM during fire season, and it's used heavily."
A current construction project at the Airport is an expansion of that same heavy aircraft apron and hardstand. "That's the big and only project for this year," says Heiser. "This project was originally going to include the general aviation apron as well, but there wasn't enough funding for this year because the bids came back much higher than expected. We will have to go on and improve the general aviation apron in the next couple of years. We do have our five-year Airport Capital Improvement Plan with the FAA. The plan includes acquiring some snow removal equipment and doing some additional work on the heavy ramp. And then, we always do a general pavement rehabilitation project, which includes crack sealing, maybe a fog seal, and we do those about every three to four years, so that will be coming up also."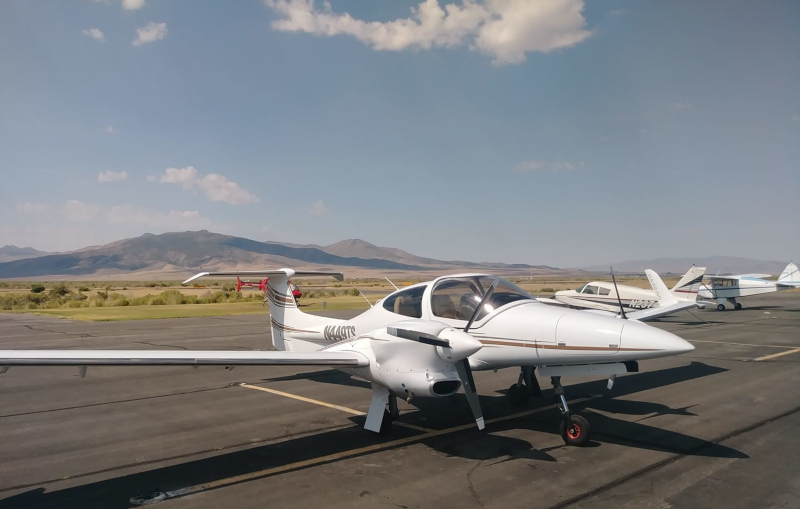 "Within our Airport Plan, we also have plans for extending the length and width of our larger runway to 9,000 by 150 feet," Heiser adds. "We have the land needed to do that, but it's a very big project and, so far, that expansion hasn't been necessary. But if a company wanted to locate here, or if we had a lot of interest in landing much larger aircraft, that's a project we could move forward with fairly quickly."
Heiser reports that the Airport works with the Northeastern Nevada Development Authority to market the city-owned industrial park, which is adjacent to the airfield. Some of the park's current tenants include: CarWil, a manufacturing company that creates components for the mines; Carry-On Trailer, a trailer manufacturer; and Loon, which launches the balloons that provide internet and cell service to places that don't have it.
"And if a company was located in the industrial park that needed access to the airfield, it wouldn't take much development to get them that access," Heiser shares. "The City of Winnemucca and Humboldt County work very well together, so if any business wanted to come here, we're open to any and all ideas. And we act quickly when a business needs something specific. The Airport is in very good condition; we take our inspections seriously, we take advantage of FAA funding, and we're always expanding."
AT A GLANCE
WHO: The Winnemucca Municipal Airport
WHAT: A general aviation facility
WHERE: Humboldt County, Nevada
WEBSITE: www.airnav.com/airport/KWMC
[penci_related_posts dis_pview="no" dis_pdate="no" title="Latest" background="" border="" thumbright="no" number="4″ style="list" align="none" withids="" displayby="recent_posts" orderby="rand"]