Bay City Regional Airport
Where dreams take flight
Business View Magazine interviews James Mason, Airport Manager of Bay City Regional Airport, for our focus on U.S. General Aviation Airports
Imagine it is 1894 and you have made a fortune in the Colorado Mines. Why not find a beautiful spot of land beside the ocean in Texas and build your own city? Well, that is exactly what David Swickheimer did. He gathered three partners, G.M. Magill, N.M. Vogelsang, and Nicholas King and formed the Bay City Town Company. They bought two cow pastures, 320 acres, and started a newspaper – the Bay City Breeze before a single house was built. In fact, the town office that housed the newspaper press, was the first building constructed. It would be 20 years before the train tracks even reached them.
It's a fact that Bay City is a community built on dreams. A tradition that has continued right through to the present day, where residents don't seem to be able to sit still – but are always thinking outside the box and creating new ways of doing things. Here is a prime example: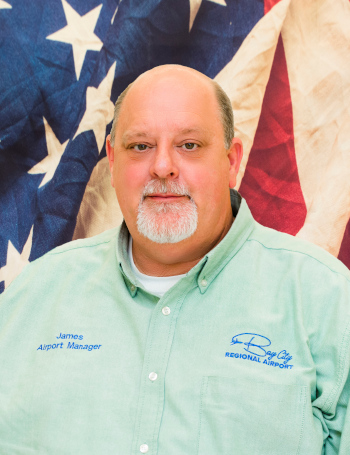 "We were drilling a drinking water well the other day," says James Mason, Airport Manager of the Bay City Regional Airport, "and I was just thinking about it and wondering if there was more we could do with the water. Traditionally, an airport can only make money one of two ways – either with fuel sales or rental spaces. But here is the thing… construction companies in the area need water, and right now their tanker trucks go to the center of Bay City, disrupt traffic, and put a real burden on the water system. So I got to thinking, what if we upsized the capacity of our well and sell bulk water to construction companies?"
Bay City Airport, being out in the country, means people wanting water would not have to drive all the way downtown during the middle of a busy shopping day. "And the airport is more conveniently located close to the building areas," says Mason. "It would cost us nothing, we are already drilling the new well, and for a very insignificant upgrade we could sell fresh water."
"But airports don't do that," he jokes, "well… at one point in time airports did not sell maps. At one point in time airports did not sell cups of coffee. Someone had to ask, why don't we start selling these items? And it just worked. So hopefully we are on to something here!"
There are other creative things the airport does, not just to make money, but to promote the love of flying and give back to the community. For example, the Santa Flights. Mason kept hearing that the airlines were going to run out of pilots due to retirement, and when he looked around, there were not a lot of kids or young people coming to the airport. So, he decided to get Santa to fly in for Christmas. With the help of a High School Drama program, they set it up so Santa flies in with his elves and gathers the local kids for a story reading, and hot chocolate, and a toy bag they can choose a gift from. The book they read tells about the time when Santa's sleigh broke down and he had to borrow a jet to get the presents delivered. The program started with 20 kids and now has 200.
Another idea they began was "Fly-in Movies" which are just like the drive-in, only they happen on an apron and you can fly to the airport to watch them – well, you can drive there and watch them too – but as Mason points out it gets kids onto the property, looking at the planes, asking questions, interacting with pilots, and it helps build a sense of community around the airport, as well.
Bay City Regional is, above all, a working airport – overseen by the city that also runs the FBO. The airport was built in 1968, five miles from the heart of downtown Bay City. Today, it is comprised of the main box hangar, 55 T-Hangars, a terminal with a pilot lounge and office space, a 5,107-foot runway running North/South and a taxiway. They see between 14,000 and 19,000 operations a year, which includes business travel for several energy companies that have facilities along the coast of the Gulf of Mexico; companies such as Conoco Philips, Chevron, and Williams Energy.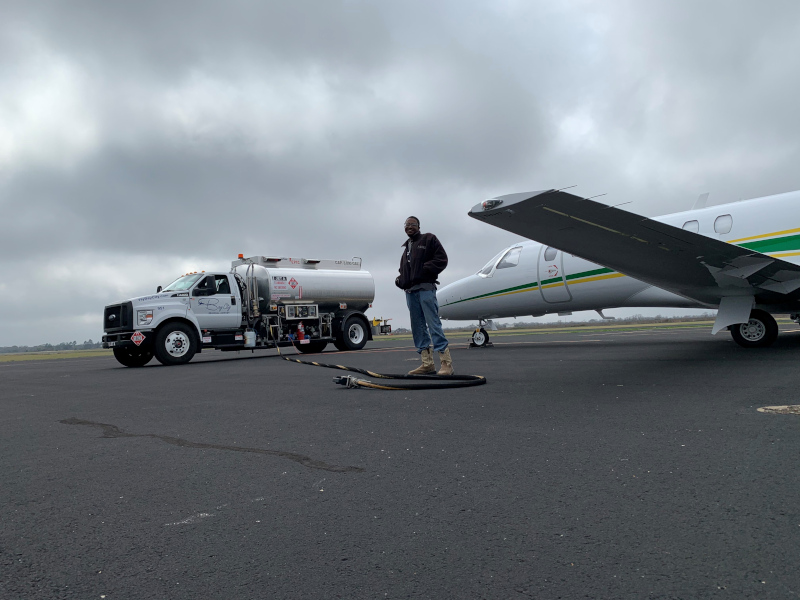 Mason reports, "There is also a nuclear power plant, other businesses, and a lot of construction of new ventures like hotels. The business folks overseeing and working on these projects fly out of our airport and it comprises most of our traffic."
In terms of projects and plans, Mason explains, "We have a number in the works. First off, with the current class of business jets, we are noticing that the distance between the runway and taxiway is too close, and we are monitoring the life cycle of our pavement so that when the pavement is no longer viable we are going to relocate the taxiway. This project will likely start in 2022. We just finished a $1 million project with the addition of a new row of T-hangars with bifold doors. We have 55 T-hangars now and I think when we build more, we have to look at box hangars or corporate hangars for larger aircraft. In subsequent years we are going to be increasing the strength load for the apron on our hangars, all of which will allow us to handle larger aircraft."
Another project they recently finished was a runway lighting project. Mason recounts, "When we were using all incandescent lighting, our bill was over $25,000 a year, which was ridiculous. So, we changed everything from ramp lights to our PAPI system over to LED and put in a whole new energy-efficient control system. We also, with the help of FEMA, brought in backup generators so that in a tropical storm or hurricane, if we lose power, the community does not lose the ability to receive and get assistance. We also need to update our master plan so we can look at where to go next."
There is a lot of items that Mason has on his wish list for the future of the airport. Among them, he would like to see Bay City Regional get a cargo handling facility, a flight school, and a maintenance shop. But he is certain these things will come, eventually.
"I am always very vocal with the city," Mason laughs, "and each year I ask them for $50 million to do upgrades. I never get it. But I do think they understand how important the airport is. You must invest in airports because they are not money makers themselves, but they bring so much to the local economy. Our local airport serves so many purposes from crop dusting and other agricultural uses, through business travel, right on up to community safety. When hurricanes and tropical storms hit you need the airport to fly in help, emergency supplies, and to help serve medical needs. People can forget how key an airport is to the needs of Bay City, but we are trying to make sure we are here for them."
AT A GLANCE
Bay City Regional Airport
What: A general aviation airport serving as the gateway to the city
Where: Bay City, Texas in Matagorda County near Houston
Website: www.cityofbaycity.org/158/Airport