Brandywine Regional Airport
Look at us now!
Business View Magazine interviews John Kassab, Manager of Brandywine Regional Airport, for our focus on General Aviation in America
Pennsylvania's Brandywine Regional Airport had a unique ownership transition in 1997, when a group of 70 pilots formed a not-for-profit association to purchase their home airport. Since then, Brandywine has walked the line of being something between privately owned and public use – operating as a reliever airport for the Philadelphia International Airport, while at the same time being aviation home for the pilots-owners. The co-operative ownership model helps spread the financial burden and mitigate the risk of a single, private owner closing the airport due to financial hardship or for an economic windfall, something that has resulted in the closure of many active privately owned airports.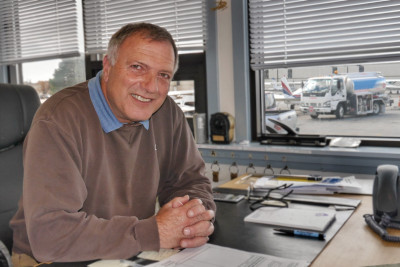 "We are located in Chester County," explains John Kassab, Airport Manager and one of the 70 members, "and this is a prosperous area. This is the "202 corridor" home to The Vanguard Group , a 401K company, Johnson & Johnson's Synthes division, and QVC Television Network. We frequently have celebrities coming in to go to QVC studios – folks like Martha Stewart, Rachel Ray, Catherine Zeta-Jones, and Kevin O'Leary from Shark Tank."
"There are a lot of entrepreneurs in business and industrial parks all around us," adds Dimitri Vassilliou, President of Brandywine Aviation and Maintenance, "so those entrepreneurs obviously own higher-end planes for business travel. And then you have the owner-operators that make up most of the field."
The airport began life in 1939 as West Chester Airport, a grass airfield in the countryside outside of the borough, and in 1947, it was purchased by William B. Wilson. The main runway 9/27 was paved in the 1980s and a new terminal building was constructed. In 1982, it was renamed Brandywine Airport and served in a public fashion until 1997 when it was put up for sale.
Today, West Chester has a population in the vicinity of 110,000 people in the South East Corner of Pennsylvania. It is the 10th largest city in the state and has grown quite a bit since those rural days of grass airstrips. "Where we are located is both a blessing and a curse," admits Kassab. "A few years ago, the Director of Aviation for Pennsylvania went on a driving tour of all the airports in the state, and he made the comment that in many cases with small airports you are driving past cornfields, but here you are integrated into a corporate business park. So, we have the good fortune of being in the center of a corporate business park, but we have the misfortune of having nowhere to expand."
Brandywine Airport covers 44 acres and averages more than 60,000 aircraft operations. It sees 98% general aviation and 2% air taxi. 124 aircraft are based at the airport: 85% single-engine, 6% multi-engine, 1% jet, and 8% helicopter. The single runway, 9/27, is 3,347 by 50 feet and is equipped with low-intensity runway lights (LIRL) and a 2-light precision approach path indicator (PAPI).
The airport is a small but active hub with a terminal building operated by New Brandywine Aero, Inc., the only Fixed Base Operator on the premises. Aviation maintenance services are provided by Brandywine Aviation and Maintenance and by Brandywine Bonanza Specialists. The American Helicopter Museum and Education Center is adjacent to the airport on the north, with taxiway access to the runway. Seven people are employed full-time at aircraft repair facilities, and another five are employed by the FBO.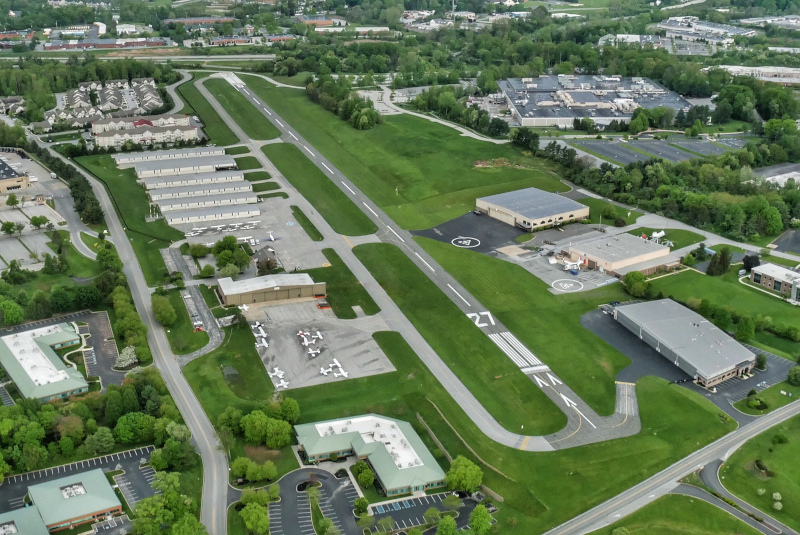 Two aviation flight schools employ as many as 12 full and part-time flight instructors. Of interesting note, nearly half are female instructors. Brandywine Flight School offers full-service flight training utilizing modern, well-maintained Cessna and Piper aircraft and offers tailwheel instruction. The school offers primary, advanced, precision and IFR training, as well as proficiency checks, flight reviews, and airplane rentals. The second school, Brandywine Aviation offers full-service flight training in aircraft equipped with advanced glass cockpit technology. "Brandywine Aviation is not your traditional flight school," says Vassilliou, "we offer a more condensed and focused program with Cirrus Standardized instructors. We also train for a commercial pilot's license."
Aero-Tech Services, Ace Transport Charter Service, and the Northeast Charter Aviation (NECA) organization also offer charter service from Brandywine. "Plane Sense, a fractional ownership service, also flies a lot of planes in and out of here," Vassilliou adds. \"We have a really nice terminal building here that has attached offices and a facility that clients can walk through to board their planes. It is a really good relationship.\"
Because of the length of the runway, the patrons tend to be piston and turboprop aircraft that buy fuel, which is the real bread and butter for many airports. When the group of 70 took over, it included a hefty mortgage, which is now close to being paid off. "We are going to be having a big celebration when we make the final payment," says Kassab. "A lot of the money we are still putting into this airport is used to service the mortgage. It will free us up to make other airport improvements to serve our members and the public."
Because it is a reliever airport for Philadelphia International, Brandywine Regional qualifies for aid and grants from the FAA. "These funds are generally used to enhance safe operations," Kassab explains. "Paving, lighting, weather reporting systems, instrument landing systems, and drainage are the type of things they help us out with. We are currently working on a runway widening project, for example, which will widen the runway from a 50 to 60 feet. This will improve the safety margin for landing and departing aircraft. We plan to build more corporate hangars, something in high demand now; we have a waiting list for all types of hangars."
The owners at Brandywine point out the benefits of having a privately-owned airport within their community that is open for public use. Airports generate billions of dollars in economic activity, and part of that occurs regionally. There is an important link between a regional airport and the community's economic vitality. The airport attracts people to the region and makes businesses more accessible and drives growth.
Brandywine in particular is routinely used by business people visiting and traveling to and from Chester County, Delaware County, Philadelphia, and the Route 202 corridor. It provides a transportation hub for air ambulance services, homeland security, pipeline patrol, power line inspection, news helicopters, PA State Police, search and rescue efforts, disaster relief and for patrons of local businesses, sporting tournaments, and local universities.
"We are also beginning a new non-profit at the airport," says Vassilliou. "The Strategic Aviation Advantage will be a program focused on disenfranchised youth and getting them involved in aviation. Which is yet another way in which the airport can be a benefit to the community."
"If you want to talk about where we are going next," concludes Kassab, "paying off the mortgage is a huge thing, a refurbished runway and lighting will improve operations, more corporate clients will help with jet fuel sales, and we will continue to find ways to service our community. Who knew that what started out as a grass airfield in the middle of a cornfield in 1939 could become a vibrant part of the transportation infrastructure of the area."
AT A GLANCE
Brandywine Regional Airport
What: A popular general aviation airport
Where: West Chester, Pennsylvania
Website: www.brandywineairport.com
PlaneSense, Inc. – www.planesense.com
The PlaneSense® fractional program is the intelligent solution for business and leisure travel across the U.S., Canada, Bermuda, the Bahamas, the Caribbean, Mexico, and Central America. The state-of-the-art fleet of Pilatus PC-12 turboprops and PC-24 jets offers exceptional comfort, spacious cabins, and large interior cargo for a fraction of the cost of other programs.
[penci_container_inner container_layout="12_12″][penci_column_inner width="1/2″ order="1″]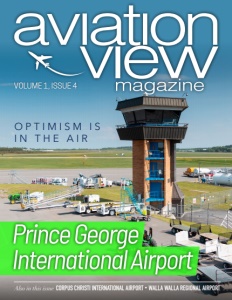 [/penci_column_inner][/penci_container_inner]