The Fernandina Beach Municipal Airport
A community asset
Business View Magazine interviews Nate Coyle, Airport Manager of the Fernandina Beach Municipal Airport, as part of our series on regional airports.
The Fernandina Beach Municipal Airport is a public use airport owned and operated by the City of Fernandina Beach, Florida. It serves the general aviation (GA) needs of the City of Fernandina Beach, Amelia Island, Nassau County, the northern portion of Duval County, southeastern Georgia, and the GA community, as a whole. The Airport sits on approximately 850 acres of land, and is roughly three miles south of the city's historic downtown, less than two miles from Amelia Island's beaches, hotels, and resort accommodations, and approximately 27 miles northeast of Jacksonville International Airport, for which it serves as a general aviation reliever facility.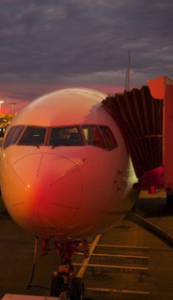 "The airfield was originally developed during World War II as a training base for the U.S. Navy," says Airport Manager, Nate Coyle. "At the time, they were flying an aircraft called an F4U Corsair. Some years later, around 1947, they transferred the ownership to the City of Fernandina Beach, and the city has owned it since. One of the benefits of being a surplus military airfield is that they developed the infrastructure here, substantially. We have three runways, all with a reasonable length."
In fact, all three runways at the Fernandina Beach Municipal Airport meet or exceed 5,000 feet in length, in addition to five taxiways. Runway 04/22 is 5,300 feet long and 100 feet wide; it has an asphalt surface in good condition (resurfaced in 2004). Runway 09/27 is 5,001 feet long and 100 feet wide; it has a concrete surface in good condition (resurfaced in 2003). Runway 13/31 is 5,152 feet long and 100 feet wide; it has an asphalt surface in good condition (resurfaced in 2010). All three runways have medium intensity runway lights.
"To have three runways and that level of infrastructure in a GA airport is a little bit unique," says Coyle. "And, over time, the city has continued to maintain that infrastructure, which provides a great service for the local aviation community and those who are flying into the area. Since Amelia Island is an attractive resort location, we get a lot of transient traffic here. So, it's a great mix of the local traffic coming into the field, and charter and executive level jet service coming to visit the island."
Currently on the Fernandina Beach Municipal Airport's agenda is the completion of a new, $4.5 million terminal building that Coyle says will actually bear the resemblance of an old F4U Corsair. "They started construction in August 2017, and we think it will be done in June," he reports. "It will house the airport's new fixed base operator, Bent Wing Flight Services, airport staff, and will provide a high level of service to our local and transient traffic. At the same time, it will respect the history of the airport by having a nose and tail structure that will look like that Corsair that used to fly here in the '40s." In addition, the Airport Terminal will offer community access for youth and education programs, special events, and airport business meetings.
In fact, the Fernandina Beach Municipal Airport has always been utilized as a
community asset, regularly providing property for community and other events. In the past, the city has hosted the Ben Byrns 5K Runway Rally which offers a 5K run, an open house at the Airport, and separate events with free airplane rides for children. The City works closely with military agencies, such as the Florida Army Guard and Georgia Air National Guard to use the airport for training exercises. Every March, the Amelia Island Concours d'Elegance, an annual "celebration of the automobile" featuring more than 250 rare vehicles from around the world, uses the Airport for parking 2,000 vehicles and 70 to 80 aircraft, per day, for the weekend of the event.
In addition, the Fernandina Beach Municipal Airport provides 26 acres of land used by the City Parks and Recreation Department for soccer and baseball facilities; the Amelia River golf course and portions of the city golf course are located on Airport property; the Airport contractually provides land on behalf of the city to Nassau Humane Society for a dog park and for City Animal Control services; it provides reduced hangar rental to the Civil Air Patrol in exchange for emergency service assistance to the city. In return, the city provides needed services. "We have the city staff that provides support to us and we lean heavily on some of the city resources," Coyle notes.
The airport also provides significant economic benefits to the Fernandina Beach area, estimated at over $30 million, annually, between direct and indirect impacts. Some revenue comes from the rents on its 52 T-hangars/Row Hangars and based aircraft; some from leases held by its tenant businesses, which include Bent Wing Flight Services, the airport's fixed base operator; Fernandina Beach Aircraft Maintenance, an aircraft maintenance and avionics business; Skydive Amelia Island, a skydiving operator; Experience Powered Paragliding (paragliding); Hang Glide USA (trike flights); and Ad Airlines (aerial advertising); and some from charges and fees placed on transient traffic. Indirect income comes from associated spending from visitors who arrive in their private or charter aircraft.
Indeed, Coyle reports that "the airport operates in the black. We don't pull off of the general fund or property taxes; we're self-sufficient. It's a great asset to the community."
Check out this handpicked feature on the Grand Junction Regional Airport – Change is in the air.
AT A GLANCE
WHO: The Fernandina Beach Municipal Airport
WHAT: A city-owned, regional airport
WHERE: Fernandina Beach, Amelia Island, Florida
WEBSITE: www.fbfl.us/168/Airport-Information
[featured_cat style="style-4″ category="may-2018″ number="12″]