Yakima Air Terminal
The best way to travel
Business View Magazine interviews Robert K. Peterson, Airport Director at the Yakima Air Terminal, as part of our series on U.S. regional airports.
"It's been around since 1928," says Robert K. Peterson, Airport Director at the Yakima Air Terminal, a general aviation and commercial airport three miles south of the City of Yakima, in Yakima County, Washington. "And like a lot of airports in the United States back then, they were just grass fields with a few aircraft and a few hangars or houses to store the aircraft. And then, over time, it evolved to become what we have today."
In 1932, Yakima Air Terminal, once known as McAllister Field, was improved by adding a 2,600-ft.-long gravel landing strip with a drainage system. Shortly afterward, it was graded and surfaced for two runways, both of which were just over 3,000 feet. In 1940, the old runways were converted into taxiways and a new 5,000-ft. runway, as well as a second 4,000-ft. runway, was completed. In 1949, a new passenger terminal was constructed, which also housed the FAA control tower and the local National Weather Service office. In 1974, the FAA built a new control tower and in 1953, its first Instrument Landing System was installed.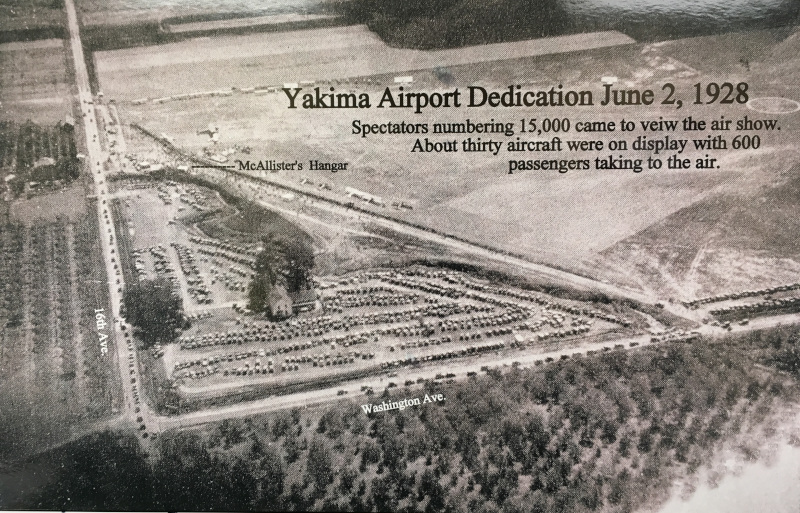 "Yakima Air Terminal-McAllister Field was operated under a joint operations agreement from 1982 onward by the City and the County of Yakima," explains Peterson, "and it was managed by an independent Board of Directors that did a wonderful job up until 2013 when the County agreed to relinquish ownership. At that time, the City took full ownership of the Airport. Now, it is a department of the City of Yakima with eight full-time employees and three part-time employees."
Peterson adds that Yakima Air Terminal is self-sufficient, but does rely on the City's resources to help manage it. For example, it is the Human Resources Department of the City that oversees staffing. The City also looks after its legal and financial management, while the Airport, itself, is responsible for maintenance and operations.
"We are a commercial airport and we have a strong general aviation and corporate presence," Peterson explains. "The last survey we did showed 132 aircraft that call our airport home – that ranges from light sport aircraft all the way up to corporate jets that are parked here." Commercial air service is provided by Alaska Airlines, which offers daily flights to/from Seattle-Tacoma International Airport and utilizes the Bombardier Q400 aircraft that accommodates 76 passengers; charter air service is provided by Sun Country and Swift Air; and air cargo service by FedEx and United Parcel Service. The terminal building has five aircraft parking gates, all of which transition passengers through a ground level terminal concourse.
What makes the Yakima Air Terminal-McAllister Field so successful? The old adage: location, location, location. In the state of Washington, Yakima is centrally located with approximately 270 days of sunshine which provides excellent weather conditions for flying.
"There are a variety of commercial airports within the state of Washington," says Peterson. "Interestingly enough, although we are partners in providing passengers with access to air service, there is that little form of competition among all the other airports in the state. One ideal item that we have, or one key strength that we have, is that we are essentially located between the west side and east side of Washington State. So within a two, or two and a half hour drive, you can almost touch the majority of this state and access our Airport."
"Our location gives us an edge in terms of general aviation, as well," he continues. "And the other catch behind that is that you have the opportunity to witness a lot of aeronautical operations over on the west side which are completely landlocked in terms of development opportunities. So, a lot of corporations on the west side actually do hop over the Cascades and the first commercial airport that has a decent runway and instrument landing system, as well as an air traffic control tower as you head east, is us. So, we do see a lot of corporations from the west side that are very interested in developing hangars and corporate jet headquarters here."
Recognizing this, City of Yakima started the "Fly Yakima" marketing program in 2013. The program was all about helping the public recognize the convenience of the airport.
"When I joined the team," Peterson recounts, "I had the opportunity to review what Alaska Airlines was doing as far as their air service, and when they transitioned from the Q200, which was a 37-seat aircraft with seven flights a day, to the Q400 with more passenger space, we went from seven flights down to three. Essentially what this did was inconvenience the passengers as far as layovers and waiting times. We identified that 70-75 percent of our passengers were driving to alternative locations throughout the state in order to avoid that. We launched the FLYYKM marketing program to make them aware that we do have a convenient flight service here at the Airport."
Peterson also took advantage of a $300,000, small community, air development grant, and some matching local funds, to add additional flights to Seattle, all of which has been very successful. At the beginning of the campaign, the Airport was averaging 52,000 enplanements annually; now, it is up to about 75,000 – a 30 percent increase.
Regarding general aviation, Peterson says, "Typically it is very challenging to manage the 'build it and they will come' scenarios. But we try to keep our development on par to where we see ourselves growing. We do have a small waiting list for hangars at our Fixed Base Operator, McCormick Air Center, and they do have a variety of large corporate hangars and smaller GA hangars. And we are working with McCormick Air Center to develop additional hangars at Yakima Air Terminal to meet those demands."
"Our Airport Master Plan identifies approximately 20-25 acres in various locations where we can expand hangar development," he adds. "We are going to update our airport layout and that will identify future growth opportunities to acquire properties around the Airport. Specifically, we are going to identify a few pieces, about 86 acres to the west of the Airport that we would like to acquire, for future development, as well as one small spot on the south-east corner of the Airport that we are interested in."
Peterson stresses, though, that his number one priority is rebuilding and rehabilitating Yakima Air Terminal's existing infrastructure. "That is one of our number one goals," he states, "to make sure that we have the ability to accommodate aircraft of the size needed." From 2009 to 2018 the Airport accepted approximately $18.5 million worth of federal grants, used for such projects as runway rehabilitation, purchasing new snow removal equipment, as well as rehabilitation of a large parallel taxiway to the primary runway. In the near future, he is looking at acquiring a new aircraft rescue and firefighting rig as well as updating the airfield's runway lighting system. And, by 2024, he is planning to rehabilitate Yakima's terminal building.
As is the case with a number of regional airports around the county, Peterson is also interested in transitioning from strictly aeronautical development to a mix of aeronautical and non-aeronautical growth. "We have a restaurant on the Airport property, we have a medical facility, and we have a few other medical facilities that are interested in expanding and developing their businesses," he says. "We also have a parcel of property north of us with all the infrastructure in place – roads, fiber, water, and sewer. It's leased to an entity, a business developer for the property. That parcel does not have aeronautical access to the Airport but it is a part of the Airport's footprint."
Peterson adds that he is also intent on extending the Airport's educational agenda. "We are close partners with Central Washington University, and a lot of professors are given the opportunity to provide airport tours. They bring their aviation management and flight students to learn more about what a commercial service airport is. We talk about how the Airport is run and how it impacts the local economy. So, it is a wonderful opportunity to get them down here; instead of sitting with their books, they see it actually operating. We are also working to ensure that they can continue to expand their flight program here. And typically, the students who are instrument pilots and commercial pilots will fly over to Yakima because the neighboring airport that they launch from does not have instrument landing systems or an air traffic control tower. So they fly over here real quick and do a lot of instrument approach training as well as commercial flight operations out of our Yakima Airport and they get their flight lessons done. So that close coordination within the flight schools is key to make sure that we can address the pilot shortage nationwide."
Check out this handpicked feature on Fresno Yosemite International Airport – Steady and sustained growth.
AT A GLANCE
WHO: Yakima Air Terminal
WHAT: A general aviation and commercial airport
WHERE: Yakima, Washington
WEBSITE: www.flyykm.com

McCormick Air Center – www.mccormickaircenter.com
Opening in 2003, McCormick Air Center is an EPIC fuel dealer and the only full service FBO in Yakima with both full service and self-service fuel for 100LL and Jet A. We are a DESC contractor. We provide flight training through CFI as well as maintenance for GA aircraft. Additionally, we are planning more hangars in 2019 for small GA aircraft to Corporate jets. Visit our site to learn more!
[penci_related_posts dis_pview="no" dis_pdate="no" title="Latest" background="" border="" thumbright="no" number="4″ style="list" align="none" withids="" displayby="recent_posts" orderby="rand"]