Columbia Metropolitan Airport
A brand new day
Business View Magazine interviews representatives of the Columbia Metropolitan Airport, as part of our series on U.S. regional airports.
The Columbia Metropolitan Airport (CAE), located five miles southwest of Columbia, South Carolina in Lexington County, is the main commercial airport for Columbia and the Midlands region of the state. It began life in 1940 as the Lexington County Airport, and was renamed the Columbia Army Air Base a year later, after being acquired by the U.S. Army Air Corps, which expanded it dramatically to serve the war effort. Runways, hangars, roads, buildings, and other facilities were added to support the training activities of B-25 flight and bombardment functions.
Following World War II, the Airport was used briefly as a training facility for the U.S. Air Force Reserves. In 1949, the base was declared surplus and it became a commercial-use and general aviation airport. By the late 1950s, the City of Columbia proposed that a new airport be constructed on the site of the existing one. Today, the Columbia Metropolitan Airport covers 2,600 acres and has two runways: 11/29 is 8,601 x 150 ft., and 5/23 is 8,001 x 150 ft. It also has a 50 x 50 ft. helipad.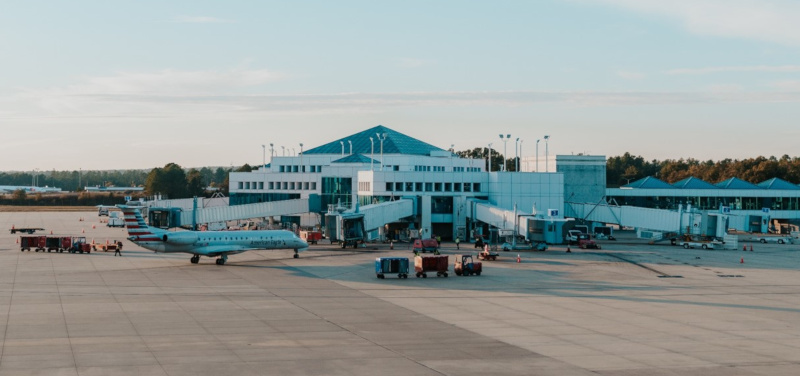 The Airport is served by American, Delta, and United Airlines, which, together, offer more than 30 daily, non-stop flights with connections to nine large U.S. Cities. Columbia Metropolitan is also the state's top cargo airport, served by FedEx, and UPS Airlines, which has one of its regional hubs there. It maintains a newly dedicated air cargo terminal, the Columbia Airport Enterprise Park (CAE Park) and Foreign Trade Zone #127.
CAE also has multiple general aviation aprons serving its two FBOs: Columbia Aviation and Eagle Aviation. Both FBOs have fueling and aircraft maintenance facilities, large corporate hangar facilities, as well as T-Hangars and canopies. The Airport's passenger terminal opened in 1965, replacing one that was built in the early 1950s; it was last renovated in 1997. The Airport has 58 employees, is self-sufficient, and does not receive any state or local tax dollars. In fact, it generates around $847 million for South Carolina. Over 40 businesses operate on the airport's campus, comprising over 1,871 full time jobs with a direct payroll of nearly $80 million.
Mike Gula is CAE's Executive Director and Frank Murray is the Director of Planning & Facilities. High on their agendas is increasing economic development within the Airport complex. "Right now, our infrastructure is in really good shape," Gula points out. "We committed a lot of dollars over the last ten years to get things to where they need to be." Murray agrees: "We've gotten caught up with our main facilities," he states. "We've done a lot of renovations of our terminal and gotten the airfield where it needs to be. So, we're at a point, now, where we can start looking to define some projects over the next five to ten years that would lend themselves to economic development."
"From the property/economic development standpoint, we're moving forward," Gula continues. "We just went into a contract with a developer called Magnus Development Partners to help us dial in on what our properties have to offer. And, as part of that, we're currently doing the due diligence on some of our Tier One properties to make sure that they're site-ready, should a future prospect come to us." Those properties are made up of 16 parcels that vary in size, configuration, zoning, and proximity to CAE, and comprise a total of nearly 500 acres of property suitable for industrial, aviation, flex, hotel, and/or commercial development.
Of particular interest to Murray are entities that are engaged in the type of research that is currently taking place in nearby University of South Carolina, such as advanced materials and aerospace technology. "We think there's a real synergy here between us and the University with their research and technical training for some of these aerospace type industries," he remarks. "And if we can provide a site and attract some of them here, it would be real positive for the future of the Airport. We're trying to put ourselves further along with that process, so when prospects come and look at the Airport, they see that we're open for business and ready to surge forward."
One particularly forward-looking element of the Airport's development agenda is what its administrators call "Enhanced Construction Opportunities," or "ECOproject," a name given to the body of capital improvement projects that CAE currently has underway or has planned for the near future. These projects, which will be GreenSpec, Energy Star, and International Energy Conservation Code certified, will not only enhance the Airport's commitment to the environment by being ECOlogically friendly, but will also enhance its obligation to be as ECOnomical as possible by lowering energy costs while maximizing efficiency.
Another item on Gula's agenda is ensuring that its two major cargo operators, UPS and FedEx, continue to remain viable. "Cargo is up almost 11 percent in 2019, over 2018, so we've seen steady growth over the past five years (up 22 percent) and we want to make sure that continues," he reports. Passenger traffic at CAE was also up in 2019 – a 13 percent increase over 2018.
Other highlights of the past year include: the addition of non-stop service to New York/La Guardia by American and Delta; new non-stop service by American to Miami, opening the Caribbean to Midlands area residents; a Mamava nursing pod installed in August, providing traveling mothers with a safe, clean, secure location to nurse their children; and upgraded lighting fixtures and HVAC system in CAE's terminal building. Soon to be instituted, early this year, will be a new parking guidance system that utilizes red and green lights over each parking spot, signifying if a spot is available or not.
Finally, the Airport recently revealed a brand new website featuring a new logo design and new brand colors. The new look will be featured in all advertising and marketing efforts, on social media outlets, and on all airport signage. So, at 80 years old, it's actually a brand new day at Columbia Metropolitan Airport.
AT A GLANCE
WHO: The Columbia Metropolitan Airport
WHAT: The main commercial airport for Columbia and the Midlands region of South Carolina
WHERE: Five miles southwest of Columbia, South Carolina
WEBSITE: www.columbiaairport.com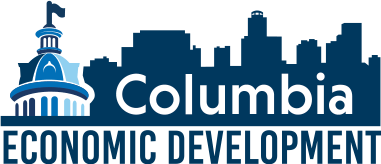 Columbia Economic Development, South Carolina – www.choosecolumbiasc.com
Where tradition and tomorrow pair perfectly. 
When you cross a capital city with the state's largest university you get big ideas, vitality and a creative culture that is palpable.  Our strong public sector provides economic stability while our entrepreneurial spirit means continuous innovation, and that makes Columbia, SC the perfect place to build a business or grow a career. 

Foth Infrastructure & Environment, LLC – www.foth.com
With more than 25 offices nationwide, Foth offers science and engineering solutions to aviation clients in effort to solve their toughest challenges. With a dedicated aviation team, Foth's Members provide quality program management, airside, and landside services to accomplish client goals. 
[penci_related_posts dis_pview="no" dis_pdate="no" title="Latest" background="" border="" thumbright="no" number="4″ style="list" align="none" withids="" displayby="recent_posts" orderby="rand"]