Rocky Mountain Metropolitan Airport
Preparing for the Worst, Achieving the Best
Business View Magazine interviews Paul Anslow, Director of Rocky Mountain Metropolitan Airport, for our focus on Best Practices at U.S. Regional Airports
Rocky Mountain Metropolitan Airport (RMMA) is celebrating 60 years as a trusted, public-use airport in Broomfield, Colorado. The Airport, which opened in 1960, is owned and operated by Jefferson County and situated midway between Denver and Boulder on U.S. Highway 36. The closest airport to downtown Denver, RMMA covers 1,700 acres and has three runways, the longest of which is 9,000 feet. It is the fourth busiest airport in the state, with over 170,000 total operations in 2018.
Airport Director Paul Anslow reports, "2019 was one of our best years ever. We had our second Fixed Base Operator (FBO), Sheltair, heavily under construction and everything was looking positive. Rolling into 2020, it was looking like it was going to be the best year ever and then, in March, COVID-19 happened and everything was up in the air." So the decision was made to cut $1 million from the operating budget and cease most of the projects that were under development. The uncertainty of the times played havoc on long-range planning.
"For multiple reasons, COVID did not affect our airport," says Anslow. "Both my FBOs told me they were keeping their company's operations afloat around the nation with their operations here. Our flight schools were also a having banner year, better than ever before. We've already had our best year since the 1970s in terms of fuel sales and operations. So, we are very happy about that. We are at 100 percent capacity. We have companies looking to develop and build out here and things have been going gangbusters."
In the midst of this growth, Sheltair Aviation Services LLC has opened its new terminal and hangar spaces at RMMA after a little more than a year's worth of construction. The project is anchored by a 10,400-square-foot terminal and 4,455 square feet of office space, along with 11 acres of apron space and 31,050 square feet of cabin-class hangar space for airplane storage. Sheltair broke ground on the project last August. "Our new complex and the related services we provide the general aviation community ensures that we can not only meet but exceed the needs of this important and growing market," Sheltair President Lisa Holland said in a statement.
"Sheltair is a family-owned business," says Anslow, "and when you sit down with them at meetings it is like sitting down with your family. And their vision and our vision for this airport are aligned. They see the way this airport is growing or is positioned to grow, and it is absolutely teamwork. We have done some projects together and we have some things in the works, but by sitting down with Craig, their manager here, and Todd, their Chief Operating Officer out of Orlando, we have accomplished some great things and they are strong partners for the airport and to the community."
Pilatus Aircraft Ltd, who operate a 120,000-square-foot completion onsite facility, make aircraft in Switzerland and fly them to Colorado for completion. They are now going into phase two and building a paint shop onsite. And negotiations are underway with another company to develop about 30 acres on the south side of the airport and start some growth there.
According to Anslow, "About 10 years ago, Jefferson County, RMMA, and Urban Frontier (a development firm) came to an agreement where they would develop roughly 460 acres of our non-aviation land. On the south side of the airport, we have over 550 acres of land of which about 170 are available for aviation development because the terrain is flat and relatively level with the existing airport. But then it drops off fairly significantly. So with the FAA's concurrence, we came to an agreement to have Urban Frontier help to develop this area. They built the Verve Innovation Park and got FedEx as the initial tenant. That FedEx facility has been operating there for about five years. And we just sold a parcel to QBP, Quality Bike Parts, that are going to build a distribution centre on the property down there."
Anslow and his team are now looking at how to develop the 170 acres they have left for aviation usage. He notes, "We have what we are calling Phase One because it has immediate access to the runways and taxiways of the current airport, the way it is set up. But working with the FAA, we have decided to create a new taxiway. We have a road that is 600 feet from the runway that dissects our aviation land the way we want to develop it." So starting in 2021, that road will be diverted to go around the aviation land and then in 2023 building will begin on a taxiway out into that land – funded by the FAA to further development.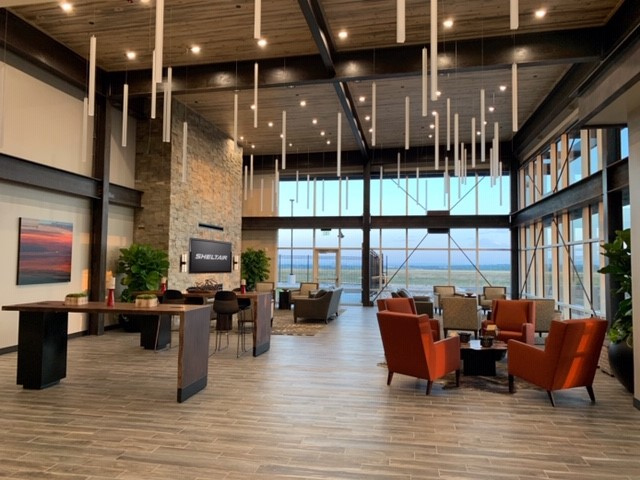 "We are so blessed here," says Anslow. "We have great FBOs and great tenants, great partnerships where we all work together. It truly is about teamwork. We all care about the soul of the airport and that is one of the things when I came on as the Director that I promised I would not turn this into an airport that was all business and operations. But that we would continue to have a soul…  I think that is translating into growth and interest in RMMA."
That soul comes from the way the team fosters a love of the airport, along with a spirit of community involvement. COVID has curtailed some of that, but usually, they host several events, especially for school children. Partnering with the local schools, RMMA brings classes to the airport and puts on an Aviation Day, which gets the younger generation thinking about the aviation industry as a career path. There are normally some 15 community events that happen on the airfield each year.
"When I was growing up, I never thought about being a pilot," Anslow admits. "I didn't know how to go about it, I didn't know that it was a possibility. But today, a high school kid thinks, "If I am going to work as a plumber or anything, I have to go to college, and college is going to cost me a ton of money." And so giving them an experience and showing them they could be an aircraft mechanic, or be a pilot… there are lots of opportunities here that give them a chance to think. We partnered with Mountain Aviation, a charter flight company and one of our bigger tenants on the airfield. And using their hanger, and Europa, and some of our other tenants here at the airport we have hosted several job fairs. It is kind of a core group that works together, and we take them to other spaces with the idea to get students and others interested in flying."
RMMA is also working with a Denver-based group to honor Bessie Coleman in 2021. Bessie Coleman was the first black female aviator and she flew out of Chicago. Anslow shares, "One of the lifelong members and founders of the organization has moved to Colorado and so next June we will have a fly-in – a social flight and a sort of social day, God willing with the COVID – to bring people out to honor Bessie Coleman and to celebrate young people getting free flights, and minorities getting involved in aviation."
As for the future? Continued, steady, and balanced growth is the mantra Anslow repeats over and over. RMMA has already been on an upward trajectory for several years and find themselves in such a good place as 2020 winds down. He shares, "We have probably 20 years of expansion possible with the land we have available and I want to build an airport that when people come in here they say, "Wow, that is a world-class airport, with world-class facilities." We've got the runways and the hangers to attract more business. We have our flight schools; we've got the tenants and the land to develop; we've got the staff that works hard; and we've got a strong GA community that's constantly growing. We are located in a perfect position, geographically, in one of the fastest-growing areas in the nation, and we are looking to support that growth with corporate hangars and a business park. So, we think that we currently are, and will be, the destination for aviation and aviation business for the next 15 to 20 years."
AT A GLANCE
Rocky Mountain Metropolitan Airport
WHAT: A public-use airport owned and operated by Jefferson County
WHERE: Broomfield, Colorado
WEBSITE: www.flyrmma.com

Sheltair – www.sheltairaviation.com
On September 9th, 2020, Sheltair proudly opened its new state-of-the-art FBO and hangar complex at the Rocky Mountain Metropolitan Airport in Broomfield, Colorado. The family-owned company designed the facility with the customer's comfort, privacy, and safety in mind by combining a number of striking architectural details for a unique user experience.
Sheltair's 10,400 square-foot FBO terminal highlights a 162-foot-wide airside canopy with direct access to the FBO, built to shield customers from the sun, rain, and snow, while the building is further outfitted with in-floor radiant heat for year-round comfort. Amenities for the traveling executive include a large conference room available for meetings and private areas to conduct business with Wi-Fi access.
To meet the general and business aviation community's needs at BJC, Sheltair added a 31,050 square foot hangar featuring 28-foot-tall doors, translucent cellular panels for natural daylighting, infrared heating systems, and overhead doors for easy street-side access. The facility provides 4,455 square feet of adjacent office space equipped with private entrances for tenants and three individual suites with direct access to the hangar.
Sheltair has also received its NATA Safety 1st Clean certification, a reflection of the company's commitment to the health and safety of its customers and employees.
[penci_related_posts dis_pview="no" dis_pdate="no" title="Latest" background="" border="" thumbright="no" number="4″ style="list" align="none" withids="" displayby="recent_posts" orderby="rand"]