Billings Logan International Airport
Doing just fine
Business View Magazine interviews Kevin Ploehn, Director of Aviation & Transit at the Billings Logan International Airport – series on U.S. regional airports.
The Billings Logan International Airport is a commercial, cargo, and general aviation airport, built on a sandstone bluff, about 500 feet above, and two miles northwest of, downtown Billings, Montana. According to local legend, the first airplane flight took place in Billings on Memorial Day weekend in 1913, when a local dentist, Dr. Frank Bell, flew his Curtiss 0-X-5 from Billings to Park City and back – a distance of 40 miles. In 1927, the city purchased some 400 acres of land, and constructed 1,820 feet of unpaved runway and a small administrative building on top of the Rimrocks overlooking the Yellowstone Valley and the Billings area.
More land was donated by a man named Dick Logan, who, subsequently, managed the new airport from 1927 to 1957. After his death, the Billings City Council renamed the Billings Municipal Airport to Billings Logan Field. In 1971 the name was updated to the Billings Logan International Airport. The first commercial service started showing up in the early 1930s; primarily Northwest Airlines and Inland Airlines – mostly for mail, but shortly thereafter, passenger service started. As time progressed and aircraft sizes increased, the Airport grew from 400 acres to 2,400 acres.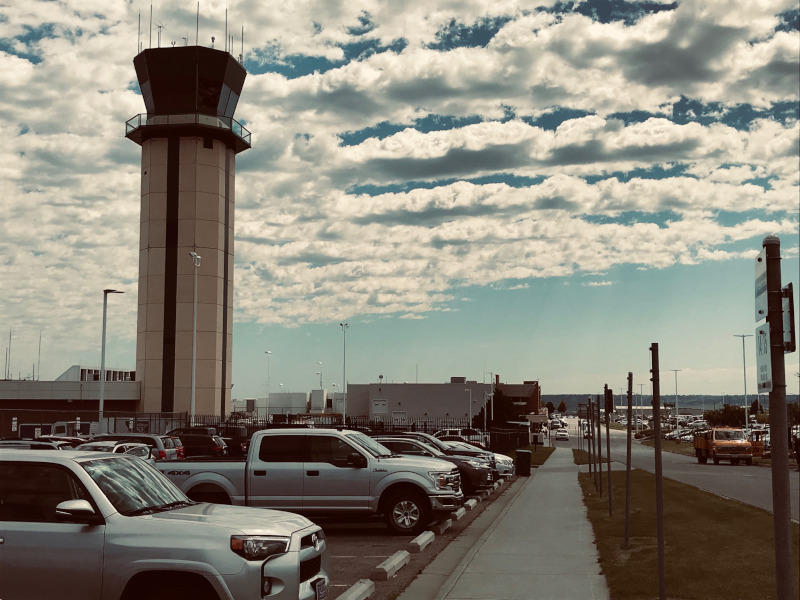 Today, the Airport has three asphalt runways. The primary runway is Runway 10L/28R with a length of 10,518 feet and a width of 150 feet. The second runway is Runway 07/25 with a length of 5,501 feet and a width of 75 feet; this runway serves as the crosswind runway. The final runway is Runway 10R/28L with a length of 3,801 feet and a width of 75 feet; this runway serves as the primary runway for single engine and light piston aircraft.
The Airport's commercial airlines include Alaska, with flights to Portland (OR) and Seattle/Tacoma; Allegiant, with flights to Las Vegas, Phoenix/Mesa, and seasonal flights to Los Angeles; American Eagle, with flights to Dallas/Ft. Worth; Delta, with flights to Minneapolis/St. Paul and Salt Lake City; United, with flights to Denver and seasonal flights to Chicago; and Cape Air, an Essential Air Service commuter airline, which operates nonstop flights with a Cessna 402 prop aircraft to Glasgow, Glendive, Havre, Sidney, and Wolf Point – all in Montana.
According to Kevin Ploehn, Director of Aviation and Transit, Frontier Airlines came onboard this past June with flights to Denver. "And I just got notice this past week, that we've got some additional service coming in," he reports. "American is going to add a second Dallas flight, and Alaska is expanding its Portland service to two times a day." In addition, Allegiant will add service to San Diego in June 2020. "2018 was a record year," Ploehn adds. "2019 was a new record year. We are on a growth cycle, right now; we had over 474,000 enplanement this year compared to 451,000 last year. So, Billings is doing just fine at the moment."
Billings Logan is also a regional cargo hub for eastern Montana and northern Wyoming. "Our freight is growing, right now," says Ploehn. "UPS and FedEx have both upped their operations, here. We had 20 percent growth in 2018, and 22 percent growth in 2019. So, those are pretty good numbers on the freight side. And we're seeing more and more of the smaller aircraft that support freight service. UPS and FedEx come to Billings and pull their freight canisters off the larger aircraft; they sort the freight and then a lot of it gets transferred onto, what we call, the "mosquito fleet" – Beech 1900s and 99s. Those aircraft go to and from all the other communities in Montana and northern Wyoming. We've gone from having about 13 of those aircraft to almost 20, so we're seeing a lot of growth there."
The Airport is also home to about 150 general aviation aircraft, and as is the case with many GA airports, there is a waiting list for hangars. Ploehn says that the City of Billings owned Airport does not build any, itself, but there is land available for private development. "We'd do the ground infrastructure and then we'd lease parcels to those folks and they can build their own hangar," he remarks. "We had one large hangar built here, last year, and we're in discussion with the FBO – Edwards Jet Center, which is looking at building a couple of hangars in the future. Additionally, in our business development park, there's been more interest in building some larger maintenance hangars over there. It's kind of a snowball effect; when one business does well, like the cargo and freight operations, the support businesses start to do better as well."
Meanwhile, the Airport has several ongoing projects of its own. Key is replacing and expanding the terminal's concourse from five loading bridges to eight, so that the airlines can load and unload their passengers more efficiently. "The construction is broken into four phases," Ploehn notes. "The first phase started in September and we're in the middle of that, right now. The first phase was to set things up for the larger phases; we had to move some people around, get some concessions reorganized, and build some temporary spaces so when we moved everybody to one end, we'd have some additional holding room space for ground loading. We're off and running with that. That first phase should wrap up this spring and then they'll jump to the much larger phases of constructing the new concourse. The whole project is about $60 million. There's FAA funding involved, PFC (Passenger Facility Charge) funding, and then some revenue bond funding to round out our financing needs."
Another project concerns the purchase of a small piece of land to help provide some more protection for Runway 10R/28L, which is used by GA traffic. Last year, the Airport shifted the runway a thousand feet to the west in order to open up some space for airfield expansion. "On the land purchase, we're real close to finalizing that," says Ploehn. "We're working with the FAA to get their blessing on it and then that will be wrapped up. We were timely in moving that runway because our cargo operations have really taken off in the last two years and we may be looking to build some more cargo ramps in that area. It used to be an RPZ (Runway Protection Zone) and now that the runway's been moved to the west, there's room to build additional cargo ramps."
In addition, there is an ongoing study concerning crosswind Runway 07/25. "The engineers are looking at that, right now, to determine what the needs are for that runway," says Ploehn. "The FAA doesn't like runways that intersect and they especially don't like it when they're at an angle, which is what our runway does. At the Billings Airport, we're up on this rock plateau, so we don't have a lot of level space. When they put that crosswind runway in, they had to raise up one end and fit it in the one place where they could actually get enough angle to make a difference on the landing approaches for the general aviation aircraft if the wind direction was out of whack from the regular northwestern flow. So, it goes through the two parallel runways at an angle and ends at the middle of the 10R/28L runway on one end, and the FAA does not like that. So, we're looking at probably extending Runway 7/25 to get the end out of the parallel runway and then building a taxiway all the way around everything just to make it safer. It's kind of a complicated little project given the terrain issues that will impact construction."
As Montana continues to become a more popular vacation locale, all of the area airports are seeing an uptick in tourist traffic. Bozeman, Missoula, Kalispell, Helena, and Billings are all in the process of expanding their terminals to some degree. "We've actually seen some better tourism numbers," Ploehn states. "American is a real good example. In the summertime, we're basically pulling out of the south Texas area. The inbound plane, last summer, was running about 97-98 percent full. What we we're seeing, though, was that the numbers going back to Dallas were about five percent less. So, we figured that some of those people coming to Billings were jumping in a rental car, seeing the area, then heading to Yellowstone Park by going over the Beartooth Pass and then flying home from one of the other Montana Airports.
"The Beartooth Pass is just gorgeous, and takes you to the north entrance of Yellowstone Park through the Cooke City/Silvergate area. And if you're coming from the flat lands, it's a very exciting drive because it's all switchbacks: 5,000-6,000 feet in elevation change going up to 11,000 feet. It's a beautiful drive and we've been marketing the heck out of that. You can only drive it during the summer and fall, but when you go that route, you're on the top of the world. There are some great turnouts where you can spend some time looking around at the spectacular views. So, I think the marketing of that drive has made some headway in promoting the area, especially as a great way to get to Yellowstone Park.  Working with Visit Billings, the Billings Chamber and others, we are continuing to promote that wonderful drive."
AT A GLANCE
WHO: The Billings Logan International Airport
WHAT: A commercial, cargo, and general aviation airport
WHERE: Billings, Montana
WEBSITE: www.flybillings.com

NorthWestern Energy – NorthWesternEnergy.com/BrightFuture
NorthWestern Energy saves the Billings Logan International Airport 1.3 million kilowatt hours and $188,250 annually through energy efficiency programs. Reliability is critical, so NorthWestern provides the airport with dual power line sources for service redundancy. NorthWestern provides electricity and/or natural gas to approximately 726,400 customers in Montana, South Dakota, and Nebraska. 
[penci_related_posts dis_pview="no" dis_pdate="no" title="Latest" background="" border="" thumbright="no" number="4″ style="list" align="none" withids="" displayby="recent_posts" orderby="rand"]