Killeen-Fort Hood Regional Airport
Reaping the aviation harvest
Business View Magazine interviews Mike Wilson, Airport Manager of Killeen-Fort Hood Regional Airport, for our focus on General Aviation in the U.S.
"It\'s kind of like plowing a field and planting seed," muses Mike Wilson, Executive Director of Aviation for the City of Killeen Airports, as well as the Airport Manager for the Killeen-Fort Hood Regional Airport. "And even though we are not seeing a whole lot of fruit out of it yet, we can see the growth starting and we can see things starting to happen. It\'s just a matter of time, so that when the airline industry does recover and they put more planes back in the air, we are going to be positioned in a perfect place to reap the harvest."
This forward way of thinking epitomizes the direction Killeen-Fort Hood Airport (GRK) has taken since Wilson claimed the helm, and is all about moving the airport, and Central Texas as a region, into the future – poised to take leadership. In fact, GRK saw above pre-COVID numbers this spring and was one of the first regional airports in the country to return to those numbers, all this despite losing one of their commercial airlines. United Airlines, which has grounded routes across the country thanks to COVID and fuel worries, not to mention a national pilot shortage, has decided to focus its efforts on other hubs.
So, it is no wonder that when the highly competitive Small Community Right of Air Service Development Grants were awarded by the FAA this year, Killeen-Fort Hood Regional Airport took home the only one awarded for Texas. "We applied for the grant to offer guaranteed revenue to entice another airline to come in," explains Wilson. "Right now, we have American Airlines with six daily flights to Dallas Fort Worth, but we know that there are over 176 people a day who live in our catchment area who are driving the 70 miles to Austin to fly to Denver. If we offered a couple of non-stop flights a day to Denver, well, we have the numbers." He goes on to explain that there were 78 grant applications and only 28 were awarded across the country.
Killeen-Fort Hood Regional Airport came into being in 2004 when operations were moved from the Killeen Municipal Airport to accommodate a longer runway, as airlines transitioned from regional turboprop to jet service. It is a joint-use commercial and military airport which sees traffic from nearby Fort Hood, one of the largest military installations in the U.S. The airport's one runway is 10,000 by 200 feet allowing the military to bring in their largest planes. Most of the general aviation needs are met at Skylark Field, a separate GA Airport also run by the city.
"One of the main things we did as an airport that has made a huge difference is to bring Roque Aguon on as our Business Manager," Wilson says, "And one of the first things that he did was to put together what he calls the Air Service Development Task Force, which has reached out to all the Chambers of Commerce, businesses, EDCs, and different folks within our catchment area – a 40 to 60-mile radius from the airport. The Task Force met with and invested time in listening to these folks."
"It just keeps getting better," adds Aguon. "We engaged about 10 different Chambers of Commerce across the Central Texas region. And if we move into the next chapter of the story what we are doing is to promote the central Texas Region and continue to demonstrate our economic resilience. We are capitalizing on the strength of Fort Hood, the strength of Austin, and the strength of the smaller cities around us that are continuing to grow. The latest census bureau information showed that the cities of Georgetown and Leander are the fastest growing in the country, and they are found right here in our catchment area."
The City of Killeen, itself, is located 55 miles north of Austin, 125 miles southwest of Dallas, and 125 miles northeast of San Antonio. Austin is today what Silicon Valley was in the 1980s, while Elon Musk has his spaceport and operations to the North. META (Facebook) has moved its headquarters into the area and it truly seems to be the golden age of expansion for Central Texas. "And here is the thing," Wilson notes, "When you look at how busy it is, how much traffic you have to contend with, and all of the hassle of getting to Austin – well, you can get to us and fly out faster, even though we are a little further away. We have not been sleeping on the job or wasting our time with all of this happening around us, we are making sure we are perfectly poised to take advantage of this growth and become very successful."
In July, Killeen-Fort Hood Regional Airport will see the opening of a brand-new commercial hangar that the airport has built for CSI Aviation, a charter company. It is 16,000 square feet with 7500 square feet of office space. This will bring in over 20 jobs to the community. There are also plans to build a second hangar and to continue to expand the airport to the southwest, where there are some 80 acres of land the airport is acquiring from Fort Hood. The major infrastructure improvement for the coming year is a complete rehabilitation of the parallel taxiway. This $11 million project will see a complete resurfacing with mill and overlay, as well as new shoulders and lighting.
"All along the Interstate 35 corridor that from Austin to Dallas, that is what is being called the new aerospace hub," Roque reports. "We have SpaceX up in McGregor, which is just north, we have the Pflugerville underground drilling project, the Tesla Giga factory in Northeast Austin, so all of that innovation… that\'s driving the economy right now and driving the growth. This is exactly why partnerships with the Chambers of Commerce and economic development corporations throughout our region are so important. We work with the Killeen Convention Centre and Tourism Bureau closely to see what is impacting our city directly and how we can support their work as they support us. We have been actively building all these partnerships at every level."
There is a strong push at the Central Texas Council of governments to promote Central Texas as a travel destination. And the Killeen region is the perfect leisure destination with big land, open spaces, rivers, lakes, fishing, and hunting. Roque clarifies, "One of the things all of us different municipal visitors' bureaus are doing is working together with the Council of Governments to bring more visitors to our area, so folks can see what kind of quality-of-life opportunities we have. GRK just had a big red ribbon event for the grand opening for our new Tailwind Concessionaire group who came in and re-branded the gift shop. We also have a bar and coffee shop now the Copilot Coffee and Cantina, and we have a grill called Rotors and Wings. This is the perfect place in central Texas for all your aviation needs!"
The biggest focus these days is on promotion. Where GRK has traditionally focused on the City of Killeen and its residents, they are now advocating for the whole central corridor of Texas and realizing the opportunities that exist further afield. "It may sound corny," Wilson quips, "but what we are really about is putting the 'regional' back into Killeen-Fort Hood Regional. We just constantly push forward on making this the type of airport that serves everyone's needs."
[penci_container_inner container_layout="12_12″][penci_column_inner width="1/2″ order="1″]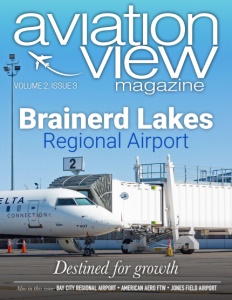 [/penci_column_inner][/penci_container_inner]