Triangle North Executive Airport
Oh, the possibilities…
Business View Magazine interviews Bo Carson, Director of Triangle North Executive Airport, for our focus on Growth in U.S. General Aviation
Just north of North Carolina's thriving capital city of Raleigh, Triangle North Executive Airport (KLHZ) is making great strides as a regional asset. The airport is strategically located right in the heart of what is known as the Research Triangle, an area which is blessed with a number of outstanding universities. It is also one of the fastest developing locales in the country, with businesses and industries moving in at a steady rate.
Triangle North Executive Airport is owned by Franklin County, which sits geographically above the metro cities of Raleigh, Durham, and Chapel Hill. According to Airport Director, Bo Carson, this has meant a large influx into the region. He reports, "We're seeing a lot of people locating here along with their aircraft as it is a strategic location for those looking to access the Research Triangle Region."
Currently, KLHZ is home to roughly 130 aircraft. Following the nation-wide trend, the airport has a waiting list for hangars, T-hangars, tie-downs, and on the grass. Of note, 100 people are on the waiting list for T-hangar space. Carson acknowledges, "We get one to two calls a week for people looking to move into the Research Triangle region and have access to their aircraft here."
The need for space is a top priority for the airport. In that regard, they have plans for a pavement rehabilitation and apron expansion project. Currently, there's an issue with building more T-hangars, as a state road is in the way. So the team is reaching out via multiple channels to relocate this road. However, with those circumstances out of their control, Triangle North is moving ahead with focusing on areas around the airfield that they can control. This means working on private, or other, construction projects on the north corporate hangar area, which they've denoted as the two "pad-ready" sites. One of these sites was recently taken under a 40-year land lease by a large business entity, that will house a Challenger 350 in the 115x115ft hangar.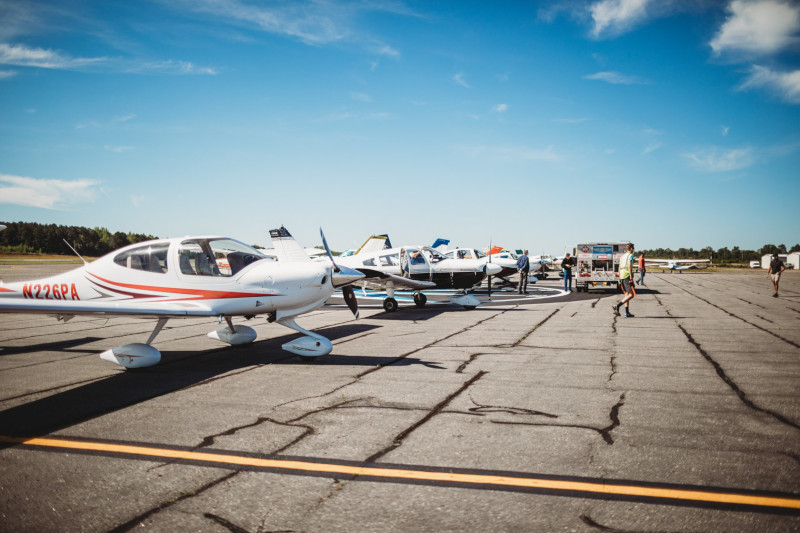 Franklin County operates as the airport's FBO, providing all related services. Also, KLHZ has a terminal building where the management staff operate lights, run fueling, make payments, look after infrastructure, as well as conduct security measures. The county also owns T-hangar space, as well as the larger hangar space for corporations.
Triangle North Executive Airport is home to a flight school, Total Flight Solutions, for over 10 years. They conduct courses in flying fixed-wing and rotary aircraft. The school also does maintenance, and service Robinson helicopters, aircraft fleet, and transient customers. Total Flight Solutions is continuously expanding their offerings and now provide a 141 certification, which will hopefully attract new military clientele. The airport is also home to the NC Civil Air Patrol (CAP) Squadron 145 that conducts the only glider operation training in the state of North Carolina.
In addition, KLHZ also houses one of only two CAP aircraft in the State that has FLIR (forward looking infrared radar) capabilities for search and rescue during natural disasters as well as missing persons cases. They are on call 24/7 for emergency statewide assistance.
While COVID-19 affected the number of operational flights out of the airport for the first few months of the pandemic, afterwards traffic bounced back and new trends emerged. "We saw a pickup in traffic after a number of months," says Carson, "people were actively looking for opportunities outside commercial air in the chartered realm. And now we see more NetJets, Wheels Up, and other charter airlines to name a few." Another reason for this boom has been attributed to the fact that chartering a private aircraft is safer than being packed into a fully-booked commercial flight.
The management at the airport are excited for the development and expansion of the 401 Highway that links Rolesville and Raleigh to KLHZ. It's currently turning the two-lane highway into four lanes, which will speed up access to the airfield from the downtown area of Raleigh to around a 25-minute commute. A huge proponent of this development was the 401 Committee, who knew the benefits of completing this project and putting the airport in the spotlight, as now more people can access the airfield.
The Franklin County Economic Development Commission has also collaborated closely with the airport.
"We have a huge synergy with the Franklin County Economic Development team," says Carson. "We are considered to be a big economic development asset in the region and state. The airport is constantly assisting or contributing to the tax base. We make sure people can move from place to place and assist with transporting people for business."
Triangle North Executive Airport is home to a diverse collection of aviation-related businesses on the airfield that service both tenant-based and transient businesses and customers. These professions include Skydiving (Triangle Skydiving Center), Avionics, A&P, Aircraft Brokerage, a Flight School, and Emergency Management Services, all of which lease out the space from the airport.
Carson shares, "The 11 businesses that call LHZ home offer services that include businesses that sets us apart from other general aviation airports. In addition to the flight school managed by Total Flight Solutions, LHZ is home to several A&P mechanical operations that include TFS and Plane Design. Additionally, turbine mechanical operators flourish here that include Triangle Aircraft Maintenance and James Aeronautics, a Mid-Atlantic Daher TBM Service Center that bring in aircraft for service. Other operators on the airfield include AircraftMerchants, an aircraft broker and service operation for those aviators looking to sell or expand their aircraft ownership; as well as Triangle Avionics, a FAA certified lab and service center that provides upgrades and rehabilitation of avionic equipment in aircraft to meet required airworthiness. The collection of all these services and operators makes Triangle North Executive Airport a destination for service and operations."
Another direct relationship with the economic development of the airport is the close proximity to the Triangle North Franklin Business Park. Triangle North Franklin Business Park is a 252-acre development ready industrial park with multiple businesses on site, and ample space for future developments. With available sites that would provide field access, the park represents a unique opportunity for businesses looking to grow their operation and maintain ties to a regional airport. Through the county's economic development organization and the regional development partnership, Triangle North,  there's a consistent effort to work hand-in-hand and to promote area businesses. "Even though they're not aviation businesses, we have a great relationship with them," says Carson. The airport directs opportunities to the business park and the park reciprocates the favor. KLHZ also assists with road maintenance, landscaping, and more.
In other developments on the airfield, Strategic Security Solutions, a company based out of Raleigh has leased land, with the prospect of building a 66×60 hangar and storing a Cirrus on site. And another company based out of the state capital, called CaptiveAire Systems, is building the larger hangar in the northern end.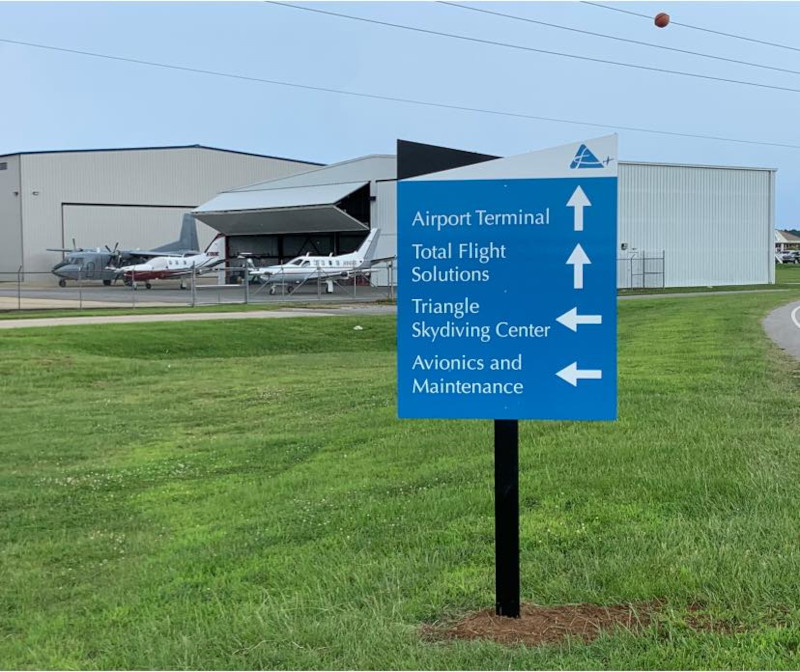 The airport has an invested interest in promoting aviation as a career within local schools. Currently they have a direct relationship with Vance-Granville Community College, a collaboration which Carson has enjoyed being involved in over the last few years. He shares, "I've been working with the flight school, as well as the college's continuing education department. We branched out recently with drone classes for recreational use, which has turned into a commercial base for engineers and related careers. The team has developed this core curriculum in conjunction with the flight school."
Funding is always a challenge, but Carson and his team has been stalwart champions in going after new grant opportunities. They are currently concluding a $420,000 Master Layout Plan grant that is awaiting FAA approval. In 2019, the airport was awarded a $1.7 million LED light and sign rehabilitation grant. This has helped with energy costs and improved safety. In 2020, the airport was awarded $600,000 for pavement and taxiway rehab design project, including the expansion of the apron and more tie-downs. This grant then led to another grant from the state being awarded to the airport in 2021 for $11.9 million for airfield pavement rehab and apron construction expansion. A final grant in 2021 of $1.6 million was approved for secure access to the north end of the airport for corporate tenants.
In regard to green initiatives, the airport was given two EV charging stations by Wake Electric Membership Corporation, which are free to use. Carson hopes that one day the airport will be home to electric aircraft as many of the surrounding state universities are doing pioneering work in the field.
Moving into the future, Carson has a goal for growth over the next three to five years. He elaborates, "I continue to advocate for a runway expansion. We\'re currently at 5,500 feet by 100 feet wide, and by increasing the surface area we're hoping to attract new jet traffic." On the corporate side, they'd like to carry on developing relationships with businesses, as well as increasing operations that allow the airport to meet those FAA standards to justify the runway extensions. So many great possibilities are on the horizon at Triangle North Executive Airport.
AT A GLANCE
Triangle North Executive Airport
What: A progressive general aviation airport
Where: Franklin County, just north of Raleigh, North Carolina
Website: www.flytrianglenorth.com
Town of Rolesville – www.rolesvillenc.gov
Rolesville, North Carolina has a rich history and a genuine community feel that makes our Town unique. We seek to build a place that is focused on walkability, with connections to parks, greenways, and gathering spaces. Throughout the year, neighbors connect with each other at recreation programs, playgrounds and local trails. It is a safe place to live, and quality planned communities offer a wide variety of home styles and price choices.
The vision for a charming downtown features quaint coffee shops, breweries, and locally owned shops. Several times a year the Town attracts regional visitors to annual events, concerts, and festivals. Mixed-use land development along the downtown core makes Main Street a true destination. All of this is within a short drive to the Capital City of Raleigh.
According to the 2020 Census, Rolesville was the fastest growing town in the state among municipalities with populations of 5,000 or more, growing 150% in the last decade. Rolesville is delivering on the promise of a genuine Wake County Town providing high quality of life for its residents and opportunity for new commercial development, specifically retail businesses and medical providers to serve current and future households, as well as office and flex space for small to mid-sized companies.
Looking to the future, Town leaders are embracing the growth, while maintaining Rolesville's desirable small town character.